Publisher's Description
Trojan.Vundo Removal Tool by Symantec is a tool is designed to remove the infections of Trojan.Vundo and Trojan.Vundo.B.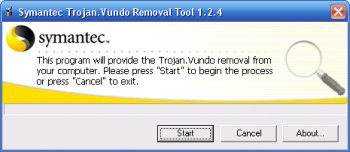 View Full-size
Latest Reviews
yebure reviewed v1.5.0 on Oct 15, 2008
verygood
lordspootnik reviewed v1.5.0 on Jun 3, 2007
plz help me to remove that trojan.vundo... have tried several times to remove it by Symantec Trojan.Vundo Removal Tool but it does work at all.

can any body help me please?
ranma.2 reviewed v1.5.0 on Nov 30, 2005
cool
mike_loldrup reviewed v1.5.0 on Nov 29, 2005
Agree
this is a
Nice tool
and
this is not
a place for spysweeper
ads
guevara reviewed v1.5.0 on Nov 29, 2005
Wow a new spysweeper fan
but this works fine
please stop this ugly adverticement for spysweeper
this one does the job for free !
joeyk reviewed v1.4 on Nov 27, 2005
Trying to remove the Trojan.Vundo virus has literally taken DAYS of my life away from me. I tried EVERYTHING short of replacing my OS. The Symantec Tool did not work for me and I tried it every which way to Sunday. The only thing that worked was the free trial download of Spy Sweeper, which I discovered only by visiting this site. I am not affiliated with this product in any way. I'm just telling folks what worked for me. If the Symantec Tool doesn't work for you, you might want to try it.
wohlforth reviewed v1.4 on Nov 21, 2005
nurseroni is right, this Trojan.Vundo removal tool didn't work for us, or for many other people, according to postings on other sites. However, the free trial download of Webroot Spysweeper did work. Thanks for the tip for getting rid of this infuriating virus!
nurseroni21 reviewed v1.4 on Nov 5, 2005
The only reason I suggested the use of Webroot is because someone told me about it.. here on this review page. The removal tool for the trojan.vundo did not work for me, after numerous attempts nor did it seem to work for other ppl. I am only trying to help and make suggestions so others can get rid of it too, that's all!
guevara reviewed v1.4 on Oct 21, 2005
what is this about spysweeper, spysweeper cost money and this is for free !
stop this pathetic advertisement
This is place for a rewiew - not a webroot forum and spysweeper is not that great.
this one works
and is free !
ranma.2 reviewed v1.4 on Oct 20, 2005
Some people here think this is a commercial place for Spy Sweeper.
i never thought that this compagny could sink that deep

This one is an exelent tool
and f... Spy Sweeper