File Details

File Size
9.3 MB
License
Shareware, $39.95
Operating System
Windows 7/8/10/Vista
Date Added
November 13, 2017
Total Downloads
25,370
Publisher
Pointstone Software, LLC
Homepage
System Cleaner
Publisher's Description
System Cleaner fixes and prevents errors by finding and cleaning error-producing and space-wasting garbage files. It operates by regularly scanning your hard drive for various error producing files and then optionally cleaning them from your system for you.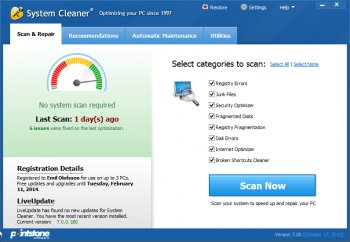 View Full-size
Latest Reviews
CyberDoc999 reviewed v7.6.15.600 on Jul 16, 2015
$40 for crap cleaner
boopie reviewed v7.6.15.600 on Jul 16, 2015
Scamming people since 1997 lol
BANDIT- reviewed v7.3.8.361 on Oct 18, 2013
Not reviewed for 7 yrs..?? ..... #TESTING ONLY#

Made it portable. File extensions needed attention. (Not easy for a noob).

A compendium of Apps Compiled into an Installer. It's the same old story.
If it aint broke, Don't fix it. Way too many of these Apps about, & a sure
way to wreck a system. $40 Bucks - 40 Schmucks.... Zilch*
pjb reviewed v5.51d on Jun 7, 2006
Very limited trial. Seems you can only select files one at a time, not sure if that changes in the full version. Seems a shame and a wate of time if not.

The trial product kept freezing when trying to do any task with the registry.

Not over impressed.
klevo reviewed v5.00 Build 54 Beta on Mar 3, 2005
What a great program! It has got a great interface, registry & disk cleanup and a registry defragmenter. So far the best cleaning app I have tested!
patmc7 reviewed v5 Beta on Jul 1, 2004
The cleanup button on the summary page doesn't seem to work.
ssb reviewed v5 Beta on Jul 1, 2004
As many others, most CLSID/COM errors it founds are not "real ones" and should not be deleted !!!
daddygeek reviewed v5 Beta on Jul 1, 2004
Fast and Smooth Found 100 problems (60 of which were Active X). Starts the Registry Editor when you need it. I can't get in Options (must be turned off). Was run on XP Pro 1 Week old that I use RegSeeker on.
belgradar reviewed v5 Beta on Jul 1, 2004
Startup was realy fast. And it found 942 problems. it took a littel longer then nortons win doctor but i think it was because it was a lot more through. Another big plus was my pc acctualy was restartable after.
madcoow reviewed v4.93 on Nov 6, 2003
good one... but I recommend System Mechanic... =P