File Details

File Size
3.9 MB
License
Freeware
Operating System
Windows 2000/9x/Server 2003/XP
Date Added
April 2, 2008
Total Downloads
43,600
Publisher
Christian Kindahl
Homepage
TUGZip
Publisher's Description
TUGZip is an advanced archiving utility with an easy-to-use interface. It supports a wide rage of file formats. You can create 7-ZIP, BZ2, CAB, LHA (LZH), SQX, TAR, TGZ, YZ1 and ZIP archives. It has built-in support for reading/extracting ZIP, 7-ZIP, A, ACE, ARJ, BZ2, CAB, CPIO, DEB, GCA, GZ, IMP, LHA (LZH), LIB, RAR, RPM, SQX, TAR, TGZ, TBZ, TAZ and YZ1 archives.
Support for the new Zip64 algorithm enables you to create archives at a total size of 4GB. Included in the package is also a SFX-tool and a scripting tool wich simplifies secure and automated backups. You can encrypt/decrypt files using six different algorithms, Blowfish (128-bit), DES (56-bit), Triple DES (168-bit) and Rijndael (128-bit, 192-bit and 256-bit). You can even convert them to SFX-archives.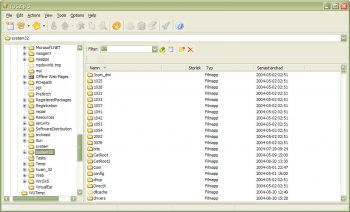 View Full-size
Latest Reviews
maturin reviewed v3.5.0.0 on Apr 10, 2008
Good product.

Still some problem to compress on a USB device (key or drive) with ZIP format.
DudeBoyz reviewed v3.5.0.0 on Apr 7, 2008
I like the app, especially the fact that you can create self-extracting executables for free whether you are a personal or business user.

However, development has slowed significantly and support is by the authors own admission, hardly available any more.

While I applaud the effort, I simply can't give it the type of score I would like to give it. If it were more actively developed and supported, I think it would be a much better resource for users. But with WinRAR being so good and 7zip holding its own, TUGZip will have a hard time standing out from the crowd, I think.
mikeyx11 reviewed v3.5.0.0 on Apr 7, 2008
This is the best archive utility in my opinion.
bnews28341 reviewed v3.4.0.2 on Feb 22, 2008
I give this program a 5, because it is clean, simple, works great.

It does have a couple of things I can gripe about though.

Winrar will allow you to add an icon to the SFX extractor, plus show a license screen (handy for showing ahem, the serials of some programs that went freeware & have the key included).

But tugzip doesn't allow you to change the icon of the SFX. In addition, doesn't seem to support totally silent SFX like winrar, but shows an extract dialogue.

Am slightly annoyed that it shows 3 possibilities for SFX package, but you can only use 1 because the other 2 are greyed out.

But for zipping, unzipping, yada yada, works nice.
Would really love to see support for viewing sfx comments (so you can remember/change it in the future if you have to, like winrar), & the ability to change the icon of the sfx, plus a totally silent sfx.

Because sometimes you just want it to launch, say, a driver backup program with no dialogue.

Overall, good program, but would be better with these enhancements!
atrox reviewed v3.4.0.2 on Jun 3, 2007
The program has a really nice interface. I would have kept it, if it were able to extract all the files from AA28FullInstaller_BitTorrent.exe (which I think is 7-zip self-extracting archive). Unfortunately TUGZip could read only 2 files from there. Some other archiver (IZArc) could extract all the files though.
wicketr reviewed v3.4.0.0 on Sep 18, 2006
This is a very good application. It lets you create numerous archive types (RAR and ACE with a plugin) and view them all. What's nice is the fact that you can look through zip files through it's explorer style interface very quickly. Much better than winzip. Uses 10MB during runtime.
Nikkie reviewed v3.4.0.0 on May 22, 2006
I switched from Izarc to this and so far so good :) ..
Mystiqq reviewed v3.4.0.0 on Feb 13, 2006
First impressions:

Main GUI looks nice and clean, i like it.

First i noticed that it spams all the context menu items to the root of the menu but cleverly the coder added option to change this. Which is nice. :)

Also i dont like the look of the icon in explorer. IZarc or normal zip looking icon is little better.
Don Juan reviewed v3.4.0.0 on Dec 9, 2005
When I found this and tried it out, I imediately dumped my previous favorite PowerArchiver.
klumy reviewed v3.4.0.0 on Oct 27, 2005
Good alternative to Winzip