File Details

File Size
25.1 MB
License
Open Source
Operating System
Windows (All)
Date Added
January 3, 2023
Total Downloads
10,319
Publisher
TV-Browser.org
Homepage
TV-Browser
Other Versions
Publisher's Description
TV-Browser is a java-based TV guide which is easily extensible using plugins. It is designed to look like your paper TV guide.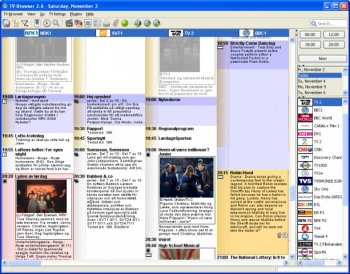 View Full-size
Latest Reviews
cltx99 reviewed v3.4.4 on Jun 2, 2016
A tad complicated, but all in all, simply awful.
CyberDoc999 reviewed v3.4.1.0 on Dec 28, 2014
difficult to use...
also on my other browser I can record shows by just clicking on them
OmAleY reviewed v3.3.2 on Sep 4, 2013
Why should you NOT use it??? It's a great program.

Does exactly what I need.

Keep up the good work.
borisf98 reviewed v3.3 on Mar 21, 2013
Why would you need it? There are plenty of websites that have TV schedules. It is also in Java which should be banned by now for the worst record in software security history.
sauzee reviewed v3.0.2 on Sep 9, 2011
I don't have the problem that the previous reviewer has. Never heard of anyone else who does either. I really like this software. If you are in one of the countries where it gets channel listings it's definitely worth a look.
stevvie reviewed v3.0.2 Beta 1 on Aug 8, 2011
This is a strange program, As it can get it's data from radiotimes.co.uk here in the UK but only finds the BBC range of channels. I use FreeGuide that ALSO gets it's data from radiotimes.co.uk but has the FULL range of UK programs. This to me just seems stupid, as it already has the plugin to accept radiotimes.co.uk data but this program only list a fraction of the chanels.
danopel reviewed v3.0 RC2 on Nov 16, 2010
Spends 10 minutes scanning for channels everywhere in the world...except Canada, therefore totally useless in Canada.
Schedules Direct is not free and has nothing to do with TV-Browser (spam!)
sauzee reviewed v3.0 Beta 2 on Mar 16, 2010
Love it. Used to use Digiguide, but actually prefer this.
robster2001 reviewed v3.0 Beta 2 on Mar 11, 2010
Users in the USA and Canada have to subscribe to Schedules Direct for this program to work.

Once you've done that, it works very well indeed.
coover reviewed v2.7.3 Beta on Feb 27, 2009
I will not downgrade this because, I personally, cannot use it, but this software is virtually useless for folks in the USA.

The only US stations listed are the Armed Forces Network and the Pentagon Channel.

So, for areas where it is useful, I'll grade it a 5. For me ... I can't use it.