File Details

File Size
4.7 MB
License
Freeware
Operating System
Windows 2000/9x/Server 2003/XP
Date Added
October 10, 2003
Total Downloads
29,158
Publisher
Sean Bryant
Homepage
The Ultimate Cheat List!
Publisher's Description
The Ultimate Cheat List! contains over 17,000 codes, hints, cheats, trainers, reviews, game companys and walkthoughs for PC, Nintendo 64, PlayStation, Dreamcast, Saturn, 3DO, Jaguar, SNES, Genesis, portable, and classic systems. It has two methods of cheats - fast updated text and database updates which are updated more often. In addition, it has seperate categories for Strategy Guides, Universal Hint System files and also has a very simple company viewer and game review database separate from the main screen.
It comes fully loaded with the TUCL File Updater for updating company information, reviews, cheats, etc. All of the cheats are editable from the program. You also get advanced features like saving cheats, opening cheats, saving cheats as HTML pages, saving as RTF, as well as the ability to open all those formats. It also gives you the ability to add your own companies, reviews, UHS files, patches, or trainers to the list.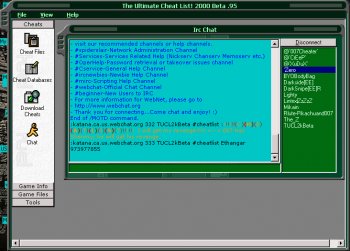 View Full-size
Latest Reviews
pk2000 reviewed vXP Beta 2a on Oct 11, 2003
Ug, not again. I'm sorry but all the previous critiques apply. It is SO much easier to type "Halo cheat" on any search engine than download this 5 meg file and then try to fiddle with your OS to get it to work. Please reconsider this product and code something more worthwhile--even a webpage hosting all these game cheats..
cyberguy reviewed vXP Beta 2a on Oct 11, 2003
Sean, some friendly advice.

You are making the mistake I have seen over and over. Starting off with a grteat idea, then expanding the scope of a program until it becomes too big to keep stable. You are trying to do way to much with this program. 'Jack of all trades, but master at none' is my thought of this proggie.

By trying to do too much (game reviewer, cheat database, IRC client,...) you are losing focus on the program's real intent. Trim the feature set down and make the intended real purpose of the program kickass before adding features back in (a plug in interface would be nice for that).
Plasma reviewed vXP Beta 2a on Oct 11, 2003
Not well designed/no real error support.

And the crap about instable systems... lol
they just need to provide the files users are missing, becuase some users do not have em!

Their interface/usability is a joke btw :P
pk2000 reviewed vXP Beta 1 on Oct 6, 2002
From the web site:

"I get errors what can I do?

If you get errors and you don\'t know what they are, please report them if possible, if they are other errors such as ocx or dll errors, it could be infact that your operating system is very unstable and not able to handle the power of TUCL. Windows XP / 2k work the best for they are very stable operating systems."

Yeah, please explain to Jane Doe computer user why she needs to completely reinstall her OS that's been working fine? Or why she should be spending money to upgrade to Win2k/XP for a freeware program of dubious need?
dayle reviewed vXP Beta 1 on Oct 6, 2002
wonder whats new in version 1.01m and why is it only 2 mb .is is an update to version 1.01l

and when are these guys gonna release a new utheme.dll for xp sp1
Viper10585 reviewed vXP Beta 1 on May 22, 2002
Ever consider truck driving Seany?
CybeX reviewed vXP Beta 1 on Mar 5, 2002
Not Quite sure if this will fit in here but this is a "Review". I agree with Death-Axe, this is childish we need to get back to what reviews are ment to do, review :-). After messing around with it for maybe 5-6 mins I had it working fine. I really like the idea of this, finding cheats for snes is kind of hard now with broken links and such and it does make it easyer, So over all it's a pretty descent program, but I'm giving it a 3 because I had to mess aground with it to get it to work.
Death-Axe reviewed vXP Beta 1 on Mar 5, 2002
Whats this i see? a bunch of children fighting over some program. I havent used this program, but i will do soon. When I come to this site I expext to see people writing reviews about the programs in question. That is NOT what I am seeing. I'm seeing a bunch of children fighting. Beta software is for grown ups.
GimieGimieGimie reviewed vXP Beta 1 on Mar 5, 2002
Friends have nothing to do with this. The bottom line is, the program doesn't meet expected industry standards. That simple.
seany187 reviewed vXP Beta 1 on Mar 5, 2002
Atleast I have friends, nuff said. If you can code better do it, id like to see you make a program with all these features and try to keep it bug free. Try reading a help file, it can explain a lot. Oh ya, I bet you think 3d studio max sucks to because you have to read a help file for that to. Keep up your disses, I know what people want and im obviously doing a good job.