File Details

File Size
28.1 MB
License
Freeware
Operating System
Windows Vista/XP
Date Added
January 14, 2015
Total Downloads
12,494
Publisher
Sequence Publishing
Homepage
TheSage
Publisher's Description
TheSage is a comprehensive English dictionary and thesaurus that provides a number of useful and in some cases unusual search tools. It runs locally, and does not use your Internet connection. The essential functionality includes the following: tabbed interface allowing multiple definitions and searches to be readily available, quick cross-referencing; standard and advanced wildcard search functionality; anagram search; history and session record keeping; options that allow customization of the appearance of TheSage; copy to clipboard of all or part of the information displayed.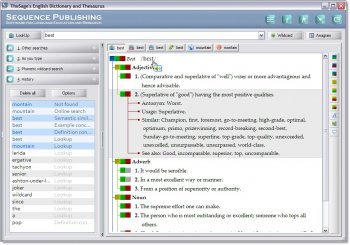 View Full-size
Latest Reviews
I've been using The Sage for ~years~. It's an exceptional resource, and something I always install on each of my new computers.
inkowyouknow reviewed v6.2.1802 on Apr 3, 2014
Outstanding in every way, small foot print and does what it says on the tin.
Hilbert reviewed v6.0.1798 on Jan 23, 2014
I've used TheSage for some years; it's excellent software and it's well worth making a small donation to keep the project going.

Unless you're Shakespeare and never lost for words, then you'll find this dictionary, word-finder and thesaurus invaluable.

5++ stars.
Landsnes reviewed v3.1.1.1742 on Apr 27, 2012
(Reviewing v4.5.1784, on Win7 64bit)

Beautiful!

The perfect English dictionary for looking up words, meanings, spellings and alternative words. However, fileforum has dropped the ball on providing the most recent version. Get it from their home page.
taxis reviewed v3.1.1.1742 on Dec 31, 2009
A free software of outstanding quality. Thank you so much!
surya69 reviewed v3.1.1.1742 on Sep 24, 2009
Ultra Classic
Zoroaster reviewed v3.1.1.1742 on Jan 7, 2009
Brilliant, elegant (that stands for BetaNews' new design as well) !
johnusa reviewed v3.1.0.1740 on Jan 6, 2009
I have not been able to do this as this program states:
"TheSage can look up words directly from almost any program (IE, Word, Firefox, Outlook, Thunderbird,... "
Can you please tell me how?
Thanks

EDIT: Found it here, #5.1 Word Capture:
http://www.sequencepubli.../_docs/thesage_doc.html
ltsnow reviewed v3.1.0.1740 on Jan 6, 2009
Very good. Have been using Wordweb, but am now giving this a try.
alanpalmer reviewed v3.0.16.1718 RC1 on Aug 26, 2008
Really excellent software. Fast and easy-to-use.