File Details

File Size
1.6 MB
License
Freeware
Operating System
Windows 2000/Vista/XP
Date Added
March 24, 2011
Total Downloads
17,403
Publisher
Phoenix Studio
Homepage
TheWorld Browser
Other Versions
Publisher's Description
TheWorld Browser is a tiny, fast, safe, powerful, multi-tabbed with multi-threaded frame browser, it is a freeware with no function limited. It has a new, powerful multi-threaded window frame, which can avoid web page being out of response. It is optimized to avoid any case of out of response. In any test case, if a web page's browser window is out of response, the other windows will not be infected.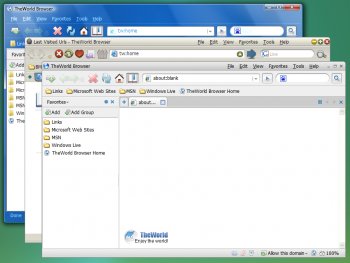 View Full-size
Latest Reviews
Pfurri reviewed v3.4.0.5 on Mar 25, 2011
Probably one of the best browser-clones for now, with the exception
of the possibility that you can't create tab-groups (what a pity !)
Bala7 reviewed v3.4.0.5 on Mar 24, 2011
@SineWave,
stay tuned for 4.0 now in development ... Chrome will be the new engine.
SineWave reviewed v3.4.0.5 on Mar 24, 2011
It uses Internet Explorer engine. In my book that's a stab in a back. No use. Nothing using IE engine can be safe for browsing. I was hoping it would be using a proprietary engine... I give it two stars because I don't like giving one.
reddy.shyam reviewed v3.0.7.1 on Oct 15, 2009
betasun, dont know why tab position isnt part of the options but here is a quick fix. Locate 'theworld.ini' generally in 'C:\Program Files\TheWorld 3' and search for 'TabAlign=1'. Change 1 to 0. Modify the above file only when the browser is not running. After the changes, startup the browser and you should see what you want.

In general, less bloated, very much active development and stable.
geo888 reviewed v3.0.6.5 on Sep 29, 2009
Really NEW one! I like it. Yes, there are some little roughnesses, but hope they could be corrected. I'm used Maxthon for last 3 years, and now so bored - it's bloated, crushed. And this browser is really promising. Good luck!
betasun reviewed v3.0.3.9 on Jul 11, 2009
a useful option is not present in this version :TAB PLACEMENT ,top or bottom .
cltx99 reviewed v3.0.3.9 on Jul 10, 2009
update: after using it for a while it began to freeze up and became exceedingly slow. I uninstalled it, but I'm going to reinstall and give it another shot. I reinstalled it and still it was very buggy and slow. I uninstalled it again, probably for good.
elitegangsta reviewed v3.0.3.6 RC on Jul 3, 2009
Nothing new to the table, just another browser to flood the ongoing figth to win the browser war... enough already. If I don't see another "NEW" browser in the next 30 years, I won't care!!

Bland and typical. Try harder to get more attention.
reddy.shyam reviewed v3.0.3.6 RC on Jul 3, 2009
Its getting there. My missing RSS viewer is added as a plug in. Quite cool.
reddy.shyam reviewed v3.0.2.8 RC on Jun 12, 2009
UI looks impressive and browser very promising. So far so good.

Edit: Looks like its high on resources (RAM).