File Details

File Size
20.4 MB
License
Shareware, $54.95
Operating System
Windows (All)
Date Added
November 21, 2019
Total Downloads
5,896
Publisher
JAM Software
Homepage
TreeSize
Other Versions
Publisher's Description
TreeSize Professional is a powerful and flexible harddisk space manager. Find out which folders are the largest on your drives and recover megabytes on them. TreeSize Professional shows you the size, allocated and wasted space, the number of files, 3D bar and pie charts, the last access date, the file owner, the NTFS compression rate and much more information for several folders or drives you choose. It also lets you search for old, big and temporary files. The application has an intuitive Explorer-like user interface and it is fast and multithreaded. You can print detailed reports or export the collected Data to Excel and to an HTML, XML or ASCII file. TreeSize Professional can be started from the context menu of every folder or drive.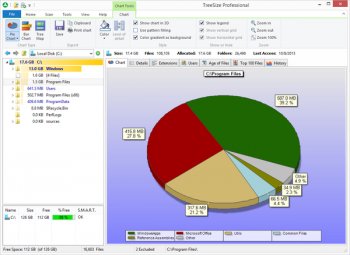 View Full-size
Latest Reviews
henriettawrigh reviewed v5.3.4 on Aug 16, 2011
It's kinda of complicated. Hope there would be improvement.
poisonu reviewed v5.3.1 on Oct 22, 2009
Even better....
Now with Deduplication....
poisonu reviewed v5.0 on Mar 9, 2008
Superb tool!!
A Must have.....
brusco reviewed v5.0 on Nov 28, 2007
Nice App. A must for tracking down wasted space.

Although its not the authors fault, this software is let down by MS not implementing a db based file system in Vista. Then this app would absolutely fly!
JeRrYFaR reviewed v4.1.1 on Dec 29, 2006
Like I said below, this app is getting better and better w/ each build..
nefarious1 reviewed v4.1 on Dec 13, 2006
You "will never miss the features that were removed"? Did you know that in their zeal to prevent users of TreeSize Personal from "exporting" data, they went so far as to prevent you from using the clipboard at all?

I found this out when I had some files being viewed in TreeView Personal, and I wanted to add a date string to the names of them all. I thought I could simply type the date string once in one of the file names, then copy it with Ctrl+C, and paste it into the others. But no... I got spanked when I highlighted part of the file name and hit Ctrl+C. Ridiculous. (You can copy strings elsewhere and paste them in, but that is beside the point.)

There are also other, similar annoyances in TreeSize Personal. Some context menu items don't apply--they are only for the Professional Edition, and you will get the "Professional Edition only" spanking if you try to use them. So WHY show them at all in the Personal Edition? Well, probably to get you to upgrade.

Functions that don't apply to the Personal Edition should not appear at all in the Personal Edition. They should not be left in so you can trip on them and be told they aren't accessible to you.

This annoys me enough to knock two points off. Other than that, great utility.
zridling reviewed v4.0 on Jun 3, 2006
I thought this app was complete as was, but I can't believe the improvements, among them disk-reading speed in 4.0. Lots of little new options that are cool, and many with easy keyboard shortcuts.
dougk2 reviewed v3.33 on Nov 15, 2005
I always felt that $40 was a bit much for the typical user to pay for the Pro version of Treesize, so I continued to use the free version. Aparently Jam Sofware got the hint, removed a few Pro features, and now we have a Personal version for 1/2 the cost. Since I will never miss the features that were removed, and the Pro version is 5-star software, I will rate the Personal version a "5" as well.

BTW, BetaNews got the price wrong. It is €16.95 (Euros) or $19.95 (USD).
zridling reviewed v3.33 on Nov 15, 2005
The bigger your HD, the more you'll want TreeSize Pro to give you a variety of graphic feedback on how much (and of what) is where. Very well designed.
JeRrYFaR reviewed v3.31 on Jul 26, 2005
I've been using it for years! Love this program. And it gets better and better on each build. :-)

Current is 3.3.1.249 if anyone is interested.