Publisher's Description
Tweaking.com Windows Repair is an all-in-one repair tool to help fix a large majority of known Windows problems including registry errors and file permissions as well as issues with Internet Explorer, Windows Update, Windows Firewall and more. Malware and installed programs can modify your default settings. With Tweaking.com - Windows Repair you can restore Windows original settings.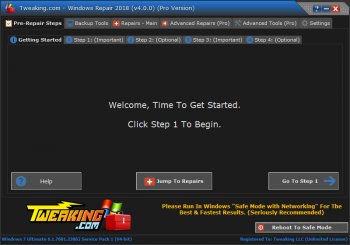 View Full-size
Latest Reviews
plasticpig72 reviewed v4.5.5 on Aug 31, 2019
A great piece of software for solving common windows issues
cltx99 reviewed v4.0.14 on Mar 12, 2018
After downloading it, my gut told me to uninstall it, because I knew it would screw-up my computer. Too scary for me.
marty reviewed v3.9.29 on May 4, 2017
I bought the Pro version. Some of the tweaks in the Pro version I can't find anywhere. It did restore a messed up Windows Insider build in its Safe Mode repair and the author is activiely updating it.
Uriel reviewed v3.9.21 on Jan 3, 2017
I liked it so much that I donated and got the Pro version.
gsteele reviewed v3.9.20 on Dec 30, 2016
A great tool for repairing windows.
Almost perfect
some guy reviewed v3.5.0 on Sep 9, 2015
this is A fantastic tool , a shortcut to CMD prompt it automates them commands with a single click. If you don't know what your doing do not play with it!!!!
CyberDoc999 reviewed v3.4.3 on Aug 27, 2015
fantastic!!!
some guy reviewed v3.1.5 on May 12, 2015
great tool !
CyberDoc999 reviewed v3.1.4 on May 3, 2015
great app!
it does not nuke any junctions.. I have run this thousands of times ... it only fixes
where do you trolls live