File Details

File Size
43.7 MB
License
Shareware, $24.95
Operating System
Windows (All)
Date Added
November 29, 2023
Total Downloads
12,544
Publisher
Greatis Software
Homepage
UnHackMe
Publisher's Description
UnHackMe tries to detect the hidden rookits by watching the computer from early study of the boot process till the normal Windows mode. Most modern antirookit programs try to detect the rookits when the rookit is already active. They use the very complex methods for detecting hooked system functions. But the rookit authors creates the new tricks and the process repeats. It removes Trojans/adware/spyware as well as rootkits.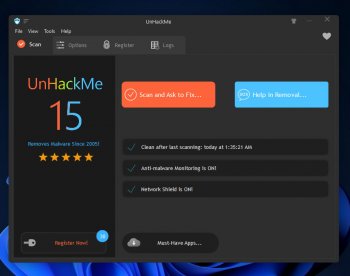 View Full-size
Latest Reviews
AlyonaKotik reviewed v15.47.2023.1115 on Nov 17, 2023
Can you help me find good foot for my cats? I see nice price at https://kosh.com.ua/ru/catalog/c148
AlyonaKotik reviewed v15.45.2023.1108 on Nov 10, 2023
??????? ?????????. ??????? ???? ? ????????
Someone reviewed v15.10.2023.0725 on Jul 28, 2023
UnHackMe is a specialized anti-rootkit software that stands out for its early detection approach during the computer's boot process. It employs various scanning methods to detect and remove rootkits effectively. The user-friendly interface and offline scanning capability make it accessible and suitable for non-experts. However, it lacks some features found in comprehensive security suites and may occasionally generate false positives. It should be used as a supplementary tool alongside a full-fledged antivirus for comprehensive system protection.
Tech 011 reviewed v14.96.2023.0524 on May 25, 2023
UnHackMe is a the ability to detect rootkits in a proactive manner, comprehensive malware removal and the capability to keep ahead of new methods. But, its specificity and sophistication may need an understanding of security programs.
Tangible Soul reviewed v12.40.2021.414 on Apr 14, 2021
Happy with this product and the professional response I received from this company.
Zootopia3001 reviewed v12.20.2021.0203 on Feb 4, 2021
I would definitely recommend for an advanced user as a second option. IMO better than Defender or Malwarebytes for scanning and catching at least.
aszure reviewed v8.94.0.590 Beta on Jun 19, 2017
No comparison to Malwarebytes. Interface looks old. Scan was much slower than MWB.
CyberDoc999 reviewed v7.76.0.476 on Jun 18, 2015
needs a 15 day free trial ..... it is weaker than Malbytes
Music4Ever reviewed v7.55.0.455 on Dec 11, 2014
Actually I install everything I review on here & always have - One thing people should be aware of is unlike Mbam there is no free trail & no free version either, on install you are immediately greeted with a large garish banner asking for $34.00 with a special offer for 2 PC's at the same cost.

After scanning the program found 'WinPatrol' as malicious & it certainly isn't, the program however does come with an uninstaller though, (did you install it Pkshadow?) but adds 2 run entries on startup - Prefer Mbam & as I fix PC's for a living I've seen just about all the malware there is around - Free ADW Cleaner along with free Mbam & TDS cleaner will find just about all there is.

This program is not highly rated on here though the author gave it 5 stars - To be fair I will not review it again.
Pkshadow reviewed v7.55.0.455 on Dec 10, 2014
I agree with the author that you have to use the program to write a review and also even if have MBAM and a good AV program things slip through that should not and you will need any and all resources to kick it out and that might not be enough to get back to normal.
With no uninstaller 4 stars.