Publisher's Description
Microsoft has never released a service pack for Windows 98 SE. This contains all updates from Windows Update site and more. It is a self-extracting and self-installing pack. It contains only operating system updates not Internet Explorer, DirectX, Media Player or their updates.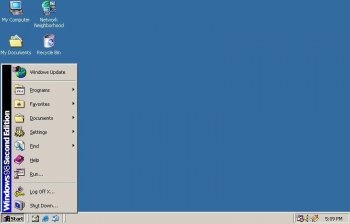 View Full-size
Latest Reviews
sidvel reviewed v2.1a on Feb 20, 2007
goog
manu1963 reviewed v2.1a on Oct 24, 2006
I want to know weather pen drive works or not
Frostek reviewed v2.1a on Aug 31, 2006
"Good that this was made though , why dont you guys just use win 2000 ? it handles great with old computers."

Perhaps because they haven't got the spare cash to lay out for a Win2K licence for what's probably a spare second or even third PC. Plus it'll probably be an older machine that's only being used till something major fails and then it's getting dumped.

I hope you weren't suggesting they just download 2000 off the net or something naughty like that? ;-)

I used this for ages on my Win98SE machine till I upgraded to Ubuntu. If I need XP, I run it in a virtual machine.

The guy who made this pack certainly seems to have put a lot of work into it, enough that I used 98SE for about 7 years without needing to upgrade. Well done, dude! :-)
Nikkie reviewed v2.1a on Jun 27, 2006
Good that this was made

though , why dont you guys just use win 2000 ? it handles great with old computers .
1uk3 reviewed v2.1a on Mar 6, 2006
Very good! I resurected an old pc the other day and did a fresh install of 98se. Glad I came across this pack. :)
imanino reviewed v2.1a on Dec 26, 2005
Absolutely think this program is outstanding. Incidentally, I'm not cheap..I just like 98SE. The reason..sure it's buggy..but it's fast on older machines AND WHEN it crashes, you can just put the disk in and without any major fanfare reinstall the whole OS in about 15 minutes. Take THAT XP...with XP its more stable but when it truly goes (talking about novice users here)...put the disk in and just reinstall is NOT the option unless you want your hard drive to say nighty night. Patch 98SE with this pack and add the REvolutions Pack for some XP interfaces, Kick in some ME DLL updates and folks you've got a machine that can stand up to Linux right nicely, though it cannot compete with internet safety. If anybody's interested, I'm trying to develop some software for the immediate post Microsoft 98Se support for fellow resisters (I do have all the Windows OS, so I'm not a total loss).
mynamehere reviewed v2.1a on Nov 30, 2005
I haven't had a chance to install this version on my son's pc yet (I'll do it on Saturday when I'm there), but if past releases are any indication, this will be great as well. It sure makes difference in stability, and the "unadvertised by MS" updates sure are nice.

@ anyone raising their flaming swords, his pc is used mainly to run educational software, and MOST of it simply will not run under XP. It has nothing to do with it being dinosaur either(Athlon XP 2000+, 512MB RAM, etc, not bad for an 8 year old). He gets my hand me downs.

@ ModderXManiac...keep us abreast of your progress, I'd love to have a dual boot with both OS's being 64 bit! (in my experience, 98 has always been much faster when gaming).
gkar reviewed v2.1a on Nov 30, 2005
The unsung hero of Windows 98/SE, Alper Coskun.
Kramy reviewed v2.1 on Nov 29, 2005
I give this to all my cheap friends! :)

98SE works great on a slow 400mhz comp I have. It's nice having people provide you with easy to install updates, aswell. :D
horsecharles reviewed v2.1 on Nov 28, 2005
Excellent update, no issues to report. FYI for those thinking updates like for instance, DCOM are not new-- that update, even though its version number was left unchanged by MS, is way larger in size.

I'd recommend to anyone experiencing any issues to visit the msfn homepage-- as not just the author, but many there are very knowledgeable and provide workarounds such as modded system files, etc. I've yet to see any issue go unresolved-- usually it's some system setting or peripheral that gets in the way.

Some Guy: i've NEVER needed a third party boot manager NOR partition utility. As long as you install in the release dates order for MS & leave Linux(2.which MUST contain Grub, NOT Lilo boot manager!!!) Say: 1.Dos 2.Win9x 3.Win2k&later 4.Linux I recommend Ubuntu linux(but choose Gnome vs KDE desktop for your older system), its bootable install cd allows multi partition, format, assign&access any file system. Initial screen gives choice of linux or winnt, if select winnt, immediately get choice of it or win9x, select the latter & get choice of it or dos...all w/ no time wasted. Good Luck.