Publisher's Description
Update Notifier is a small utility that scans your computer for installed software and displays a list of updates. Also you can see the latest updates for applications from your Watch List. Why do I need this software? You can see the status of all of your installed software with direct download links for each one.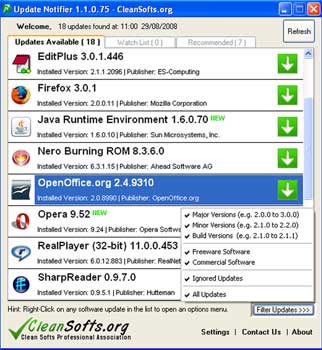 View Full-size
Latest Reviews
henrypeck reviewed v1.1.6.141 on Apr 9, 2010
Does not work. Sumo found 2 programs requiring updates while Update Notifier just sits there.
reidyn reviewed v1.1.6.141 on Mar 19, 2010
This hasn't worked in some time now. Not only is it not scanning my system correctly, but it isn't showing the latest versions of apps from the list that it's allegedly retrieving online. For example, I'm looking at WizMouse 1.0.0.6 on my system, but somehow Update Notifier believes I still have 1.0.0.2 and that 1.0.0.2 is the latest version. Most of the apps in the list that it has built from my system have been upgraded since it last successfully checked, but it doesn't realize this. Nor does it realize that even if those were the versions that are installed, updates have been issued for all of those. Totally 100% broken. I've e-mailed the developer to ask whether this is still being maintained and in the meantime I'm uninstalling in favor of something else. I'll try FileHippo as others are recommending, but I also recommend the CNet TechTracker as another alternative. Perhaps between it and FileHippo we can stay up to date.
KNRover reviewed v1.1.6.141 on Jan 16, 2010
I used FileHippo's update checker for a couple of years when I stumbled on Update Notifier. I have tried it for a couple of months and liked the interface so much I uninstalled FileHippo. However, during the 2 months, I noticed that it never came up with any new updates. So today, I downloaded and installed FileHippo and let it scan for updates. It found 4. One of those was the latest Java RE; the others were minor. My conclusion: Update Notifier misses a number of needed updates. I will probably uninstall it in the next week or so.
speedwaystar reviewed v1.1.6.141 on May 11, 2009
Finds more updates than the FileHippo.org updater. The only slight annoyance is the download site, which has an unnecessary second page you have to click through to get to the actual download. For the ads, I guess.
emil.sekula reviewed v1.1.5.133 on Mar 11, 2009
I think it could be nice to do some Update Notifier forum instead of comment all problems here. Here you have one by techsupportalert: http://www.techsupportal...rum/showthread.php?t=83.
JWvanLohuizen reviewed v1.1.4.125 on Feb 7, 2009
This is a great little free and simple to use utility, but what you may not know is that 2 great guys gladly and diligently maintain a great website that contains all of the programs and has lots of great information about all of them.

They are very open to suggestions and appreciate of the the user input that also helps adding more software to the site. Cleansofts.org.

This software is still portable but now includes an install file to help a user browse to the location that they want to store the program and run it. This was added after a user suggestion.

After another user suggestion, the latest release added the ability to display all the programs and versions currently installed on your computer and reports when they are up to date as well. This allows users to submit their installed software for inclusion on the website, thereby being reported in Update Notifier.

This is a must have for every computer user of every level of tech knowledge.
innerspirit reviewed v1.1.3.109 on Jan 22, 2009
It's looking good, it found some out of date software on my system and it was very easy to download the updates.
eviljolly reviewed v1.1.3.107 on Dec 21, 2008
Runs fine in Vista x64. Nice little utility. Found some programs I didn't expect to see.
andrewtheart reviewed v1.1.3.107 on Dec 20, 2008
I'm not the kind of person that would typically use a too like this, but on a whim I downloaded/installed this. It works great! It found updates to a lot of software I had sitting on my machine, including more obscure programs (Notepad++, Opera, Pidgin, MediaCoder, 7-Zip, etc). Saves me a lot of time having to search for updates myself. Great job guys.
The X caption button now closes the main window, but there is an exit confirmation--just in case you happen to struggle with a bout of indecision when you decide to close the window. (Personally, I can't stand needless exit confirmations. I think they belong on serious software such as real-time AV monitors, but even there they should be optional.)

Overall, though, this is a helpful utility. It would be nice if it detected updated drivers, but I can understand why they dont--because that's a whole other mess.