File Details

File Size
0.5 MB
License
Freeware
Operating System
Microsoft Hyper-V Server 2008, Windows (All)
Date Added
April 19, 2017
Total Downloads
5,895
Publisher
Utilu
Homepage
Utilu Silent Setup for Mozilla Firefox
Publisher's Description
Utilu Silent Setup for Mozilla Firefox is a small multilingual utility which after approval automatically downloads and installs the latest version of Mozilla Firefox, and then immediately opens one or more websites. It asks no difficult questions and does not show technical information or error messages and even works under the most restricted user accounts, so you can quickly use Firefox on any computer and also easily explain how to install Firefox to anyone else. Since it always works and is very simple to use, you can include it on your website, so you do not have to code for non-standard compliant browsers anymore.
Note: If you already have Firefox installed you don't need this utility.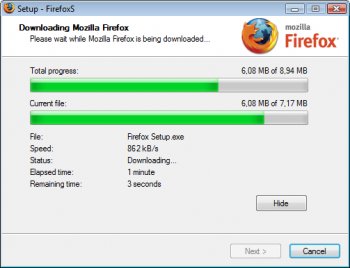 View Full-size
Latest Reviews
CyberDoc999 reviewed v1.0.2.9 on Apr 24, 2017
see Ninite.com it is way better than this
sweathog reviewed v1.0.2.3 on May 16, 2011
Still liking this, but for some reason you cannot auto-install a previously downloaded version of Firefox, rename it and install it into a custom directory, via command line switches, as their install FAQ suggests. But for downloading and installing to default directory, this can't be beat.
sweathog reviewed v1.0.1.1 on Jan 14, 2010
For clean installs, this plus MozBackup are the shiznit. Up to speed with the current version, all configured at the touch of two buttons.
CyberDoc999 reviewed v1.0.1.0 on Dec 23, 2009
They should make it so that when you click on that stupid Blue E for internet explorer it starts firefox instead......
that would be cool......
Beta Soft reviewed v1.0.0.9 on Sep 6, 2009
You can't click Help in Firefox and click Check for updates when you don't have Firefox.
Haven't you read the note "If you already have Firefox installed you don't need this utility."?
This is by far the easiest, fastest and best way to get Firefox installed (when it's not already installed) wherever you are. Period.
some guy reviewed v1.0.0.9 on Sep 2, 2009
pretty worth lees you can just click help in FF and click check for updates lol
Delphi reviewed v1.0.0.6 on Apr 23, 2009
Everyone with (an old version of) IE can (and should!) install this.
Delphi reviewed v1.0.0.5 on Apr 2, 2009
Now I can use Firefox on the Guest account of every computer. And believe me, that's better then Internet Explorer 6. Really.
shydoc reviewed v1.0.0.4 on Mar 5, 2009
Great tool especially those whose really restrict user access.
Beta Soft reviewed v1.0.0.3 on Feb 28, 2009
This is better then a portable version of Firefox, because with this you don't need anything else (like an USB-Stick with Firefox Portable) and it's really easy to use, since everything is done for you after starting it.