File Details

File Size
0.0 MB
License
Shareware
Operating System
Linux, Mac, Windows (All)
Date Added
June 12, 2023
Total Downloads
11,078
Publisher
VanDyke Software, Inc.
Homepage
VShell Server
Publisher's Description
VShell server for SSH2 provides secure access to Windows servers based on the Secure Shell client/server protocol. It can be used for secure network access, system administration, and file transfer. It provides access through an encrypted tunnel to e-mail, databases and other TCP/IP applications. Files can be transferred securely using SSH2 client SFTP and SCP commands.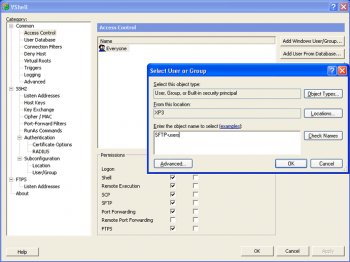 View Full-size
Latest Reviews
hayla123 reviewed v4.6.0.2379 Beta 3 on Dec 16, 2020
Trendmicro activate for your mac and pc.
When you activate trendmicro antivirus, it protects your device from unwanted threats.

Below mentioned are the services provided by trendmicro activation

https://trendmicro-activate.com/
https://trendmicro-activate.com/activate-trend-micro-internet-security/
https://trendmicro-activate.com/install-trend-micro-activation-code/
https://trendmicro-activate.com/trend-micro-internet-security-activation/
https://trendmicro-activate.com/trendmicro-com-activate/

trend micro activation
activate trend micro internet security
install trend micro activation code
trend micro internet security activation
trendmicro.com/activate
forcrack reviewed v4.6.0.2348 Beta 1 on Nov 8, 2020
over is a good software
nvic reviewed v4.0.0.419 Beta on Dec 18, 2013
There's plenty of alternatives that offer the same features and don't cost anything.

Why should I pay for something I can get for free?
W@KK0 reviewed v3.6.1 on Jan 22, 2010
Hello, you mean you'd like to pay for something that's free? Please try this product!

Oh you want the product that does all this stuff and is still free? FreeSSHd
http://www.freesshd.com/
djurbino reviewed v3.0.0.439 on Jun 27, 2007
So the linux version of this program is freeware, but the windows version is shareware?

Nice way to screw people over for using windows.
filobeddo reviewed v2.6 Beta 4 on Mar 22, 2006
Not tried it yet, but its a welcome addition as metioned, given that this kind of thing is tricky to find for Win nowdays. F-Secure used to do a superb SSH server/client package but they sold it WRQ who for some bizarre reason have buried it?! (they claim its in their 'Refections' suite, but i checked out the demo and it is'nt.

Right now though I use OpenSSH which does a great job (and is domain user aware FYI).
jibbajabba2 reviewed v2.6 Beta 4 on Mar 21, 2006
The most valuable feature of this software and what makes it worth the money is the AD integration. Sure OpenSSH is good and free, but if you have an AD domain full of access groups and wish to provision SFTP rights, you have to recreate that security architecture in the passwd and groups file, and you now have two points of administration that you must keep synchronized. With VShell, your work is already done.

Also the ability to create multiple virtual home directories and provision them with AD groups is a lifesaver. Good software, been using in Enterprise environment for over 4 months now.
allsiante reviewed v2.6 Beta 1 on Feb 18, 2006
Openssh is all you need: good, working, free. This also works, but gives nothing more and it's shareware. Doesn't get a 5 from me, no sir.
joesnow reviewed v2.5 Beta 3 on Nov 9, 2005
This is actually something that's quite rare to find on the windows platform, I haven't used it yet, but I intend to try it out and look forward to a working SSHD that has a GUI frontend. I didn't get that it was a SSHD from the description, but others are saying it is, and if it is, then my god please make more like this, 5 stars just for the effort >> ;-p
tasty reviewed v2.2 Beta 9 on Aug 1, 2003
This program does exactly what it's supposed to -- it is a ssh daemon for win32. If you don't know what it is, don't give it 1 star. Using this along with the Windows Resource Kit vbs administration scripts allows for decent remote Windows admin. It is still Windows, so don't expect alot.