File Details

File Size
1.3 MB
License
Shareware, $69.95
Operating System
Windows 2000/9x/Server 2003/XP
Date Added
March 6, 2008
Total Downloads
17,487
Publisher
DeskShare Inc.
Homepage
Video Edit Magic
Publisher's Description
Video Edit Magic is a Windows video editing application that gives you high-end power at an entry-level price. Its drag-and-drop interface makes it easy to capture video footage onto the editing timeline and assemble a movie in mere minutes. Then add professional scene transitions, some background music, a couple of title effects, and get ready to show the world your finished masterpiece. You can even edit and combine popular file formats including AVI, WMV, ASF, MPEG, JPEG and many more, all on the same timeline. This really comes in handy and saves a lot of time, when you want to create something truly unique from multiple media sources.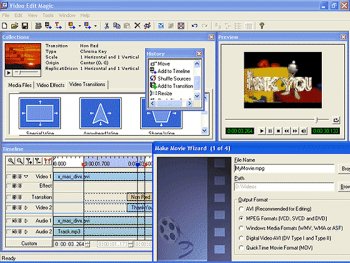 View Full-size
Latest Reviews
justinb reviewed v4.26 on Dec 28, 2006
Nice little piece of software... saved me last year when I had a Spanish Project due & Adobe Premiere wasn't working correctly.
zridling reviewed v4.24 on Nov 28, 2006
For the price, it's more than professional enough! Sony Vegas is the Photoshop of this category, and priced just like it.
zridling reviewed v4.16 on May 13, 2006
Beware: Deskshare installs a keylogger on your system in order to activate every update you apply. It sux.
LeXTeRiTY_X reviewed v4.11 on Aug 29, 2005
Has a good interface and decent preformance. I still prefer to use GoldWave's Multiquence for video-audio editing though.
zridling reviewed v4.1 on Aug 3, 2005
In this version, everything gets faster. Always a good thing.
zridling reviewed v4.09 on Jun 9, 2005
Sweet. The developers stay on top of VEM to keep it humming.
John Hayden reviewed v4.07 on Apr 27, 2005
Very good for editing many different types of formats. Support is also good. This is the best video editor I have found. Easy to learn. Has a lot of output formats.
David Marsh reviewed v4.06 on Mar 29, 2005
It is an excellent program, it not only has functions I need but it has all,the ability to work with real and Windows and MPEG and impotantly it works.Nice program.
zridling reviewed v4.01 on Nov 11, 2004
The one thing I truly love about Video Edit Magic compared to other video apps is the broad array of formats supported. You won't find that in Adobe, Pinnacle, et al.
zridling reviewed v3.33 on Aug 27, 2004
The latest version — 3.38 — supports all mpeg outputs along with Quicktime and has numerous compression formats. It's easy to learn, works well, and is great for all-purpose and repetitive editing tasks.