File Details

File Size
5.9 MB
License
Freeware
Operating System
Windows 2000/Vista/XP
Date Added
May 27, 2014
Total Downloads
4,327
Publisher
Twins
Homepage
Visions
Publisher's Description
Visions is an innovative 3D image management system (3DIMS) which allows you to navigate through your photos in a 3D (three dimensional) world. This way you can view your folders as a collection of boards spread on your screen, allowing you to easily perform cross folder actions such as moving photos from one folder to another, comparing two folders or simply viewing photos from several folders at the same time.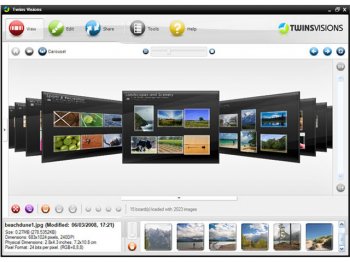 View Full-size
Latest Reviews
uberfly reviewed v1.0.0.1609 on Dec 27, 2008
You can't just browse your drive for folders, it wants to catalog all your drives. Laim. Also bugs you to upgrade to their pro version. Interesting, but not worth the hassle for me.
mo_mo reviewed v1.0.0.1609 on Dec 25, 2008
just for the info and the screen shots, looks pretty cool =)
picasa should do something like this =)
like the 3D borrowing! looks so high tech =D
CyberDoc999 reviewed v1.0.0.1609 on Dec 25, 2008
This is very cool!
Wardev1 reviewed v0.4.0.1422 Beta on Sep 9, 2008
I forgot to mention this new software here:

http://www.spacetime.com

Also cool iris is great for browsing photos, etc... much better for Firefox 3 extension... http://www.cooliris.com/
JeremyP reviewed v0.3.3.1128 Beta on Apr 17, 2008
Clunky. Also, uninstall does not remove the shell extension, And yes, the site is down!
Lycox reviewed v0.3.3.1128 Beta on Apr 17, 2008
Site seems to be down...
Neoprimal reviewed v0.3.2.1121 Beta on Apr 15, 2008
Herb,
Firewall alerts don't = 1 worthy, unless you're speaking in terms of how much you know about software/computers in general. That being said - don't download and install things from betanews unless you know what you're doing.
Ain,
It's a program for viewing photos/images, duh. So it's not useless, it has use. If you have OTHER programs that you use to do this stuff, why did you download it?

Review:
This is basically a program to view images, I wouldn't say in 3D exactly, but useful for viewing several at once. They're spread out over boards and you can basically copy them between the boards. The program isn't 'all that'. It does what it says, and says what it does. It'd have been more 'eye candyish' if the boards were 'glass' or aero - hopefully they'll do something like that in the future.

If you have/use acdsee or any other photo editing program, there won't be much use for this.
Ain Soph Aur reviewed v0.3.1.1118 on Apr 15, 2008
thats the problem: its absolutly useless...

but its done very nice
Ryusennin reviewed v0.3.1.1118 on Apr 14, 2008
Sometimes, fancy GUIs are not as fun to use in real life as they are sexy to look at in sci-fi movies.
rcglidden reviewed v0.3.0.1104 Beta on Apr 10, 2008
After installing on Windows XP service pack 2 I couldnt get past the setup screen. It crashed no matter what I tried, even hitting the cancel button made it crash. At one point I got a "send report to author" requester, but the send now button was grayed out even though I KNOW I have a good internet connection.

Oh well...looks like a nice program anyway. I'll keep an eye on this for bug fixes and try again later.