File Details

File Size
9.5 MB
License
Freeware
Operating System
Windows 2000/Server 2003/Vista/XP
Date Added
May 25, 2011
Total Downloads
11,995
Publisher
OrdinarySoft
Homepage
Vista Start Menu
Publisher's Description
Vista Start Menu is a convenient alternative to the Start menu. It is much easier to find and run the program you need. Everything is visual and extremely easy to use. Your applications are arranged in a table with icons divided into groups, which makes it easier to work with a lot of programs.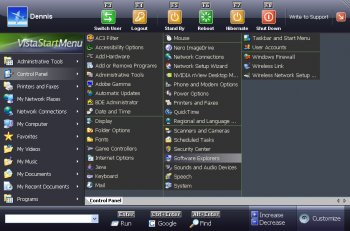 View Full-size
Latest Reviews
CyberDoc999 reviewed v3.54 on Jan 13, 2010
Needs to look more like the Windows Classic menu but still a great app
DatabaseBen reviewed v3.0 Preview on Dec 9, 2008
actually, 3.1 can be obtained here:

http://www.vistastartmen...sttime&ver=3.01free

i highly recommend this program to vista users.

it is disturbing to not understand why if vista is such a graphical exhibition, it has a poorly looking and limited start menu.

perhaps, microsoft should buy this program and provide is as a vista extra as it is a worthy addition to vista and very helpful for vista users.
anonymous_user reviewed v3.0 Preview on Oct 4, 2008
The new version 3 is nice. Needs more skins though.
TwinsDad reviewed v3.0 Preview on Sep 16, 2008
There are only three or four functions that aren't in the free version so I am revising my score.

Wile the comments about the cost of the program are correct, I think it still deserves a high score. This is a very well thought out user interface addition. Having studied UI design this programmer deserves a fellowship at Microsoft
for the great work he has done is creating the way this thing presents your programs and Start menu. This should be the Start menu in Windows 7.

The videos and web site design are top notch professional work as well.

Come on people give the guy a break he has really spend a lot of time not only programming this thing but more importantly a huge amount of time planning and thinking it through as well.
softapo7 reviewed v2.8 on Jun 4, 2008
Actually a stable and useful program. I have no issues with the white letters on a dark background, not at all difficult to read. Improves the usefulness of Vista, which is saying a lot. Vista will one day be consigned to the garbage pail of history, but for now we have to make it as painless as possible.
Captain Hook reviewed v2.8 on May 15, 2008
Bad program. I deleted it after 10 minutes.
White text on lightgrey background. Hard to see.
Access violation at several occasions!
No configuration at all!
gundamboyzack reviewed v2.8 on May 15, 2008
I'll stick with ViStart...
Tao2005 reviewed v2.7 on Dec 11, 2007
Like the looks, and the layout. I don't like the fact that it's so limit. Still a good program. I don't like navigating the startmenu. So this program is a big upgrade to the current startmenu.
dcardinale reviewed v2.4 on Oct 2, 2007
Vista's start menu while compact seemed difficult to navigate and locate the programs wanted. also I had to struggle to locate my old standby's like run. I have an acer laptop that inconveniently seems to shut off wireless internet connectivity. This ap makes trouble shooting much easier.
Blackhole8746 reviewed v2.4 on Sep 28, 2007
the vista start menu is supposed to be compact... thats the only good thing about vista! and ur doin this program to EXPAND it again?!!