File Details

File Size
0.1 MB
License
Open Source
Operating System
Windows (All)
Date Added
August 4, 2016
Total Downloads
351,838
Publisher
Olivier Chalouhi
Homepage
Vuze
Other Versions
Publisher's Description
Vuze Bittorrent Client is an end-to-end application for all your torrent needs. Although it is a complete bittorrent downloader, Vuze maintains a lightweight footprint, doesn't slow your computer down, and quickly downloads torrents. Vuze makes it easy for you to find torrents anywhere, whether you are downloading torrents from a tracker site or anywhere else on the web. Once you find a torrent the Vuze Bittorrent Client makes it simple to download torrents and automatically optimizes torrent download speeds. Once your downloaded torrents are finished Vuze makes it straightforward and simple to watch and listen to the content you downloaded. Vuze simply covers anything you'll run into when downloading bittorrent torrents.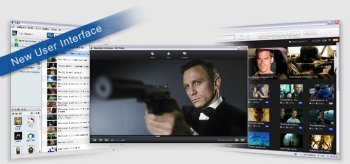 View Full-size
Latest Reviews
gsteele reviewed v5.6.0.1 Beta 30 on May 16, 2015
Bloated and slow.
Gripweed reviewed v5.3.0.1 Beta 45 on Jul 18, 2014
Hall9000,
Although I personally use Vuze I couldn't care less about what bittorrent client you decide on using. But to make your decision based on a BT client's Search feature is crazy. You're crazy for doing searches on Public torrent sites. You are just asking to be sent a letter from your ISP at the very least or worse a pay-up-now letter from someone's lawyer. Of course odds are less if you are using a VPN but you don't seem on the surface to be the VPN-type.
Get yourself invited somehow (buy your way in if you have to) to a limited number of good private torrent sites that has a fair amount of members and do your searching from within.

http://www.btracs.com/index.htm will get you started in finding a good private site that will fill your needs.
Hall9000 reviewed v5.3.0.1 Beta 15 on Apr 22, 2014
I actually just uninstalled VUZE. For some strange reason this version gives tons of absolutely unrelated results. Plus the fact that it came with an absolute bare bone list of sites to search. What the hell???
Hall9000 reviewed v5.3.0.1 Beta 14 on Mar 21, 2014
If there is one absolute thing I'd like Vuze to change it's the search option. At the moment you input what you want to find then you get the results. Then and only then can you chose the type of results you want. As in music or video. That type of search option should be available BEFORE the search. That way you wouldn't end up with tons of useless results. Also, where the hell can we find up to date search templates?
Gripweed reviewed v5.1.0.0 on Aug 20, 2013
I just don't understand all the negativity about this program. I'm running just a regular i5 computer with 8 gigs of memory and I'm not seeing any of this slowness and CPU hogging that others write about. I do a fair amount of leaching and seeding. Nothing over the top but I'll usually have 5-10 things going all the time with probably 75% of my Internet bandwidth allowed to be used. Usually I'm using much less than that max. Right now with 6 seeds going I'm seeing 44% of my RAM used and about an average 24% of my CPU going. That is with all my other normal computer background programs running as well. Looking at my Process Lasso report over the last 2 days Vuze has itself used 0.19% CPU and 148,468K of memory. Looking at the report my browser (Pale Moon) that I'm using to write this has used more than double that and I don't run it all the time like I do Vuze. All I'm saying is if you are looking around for a different BT program don't be scared off by the thought of Java and all the negativity here.
dragonsmama reviewed v4.8.1.2 on Jan 31, 2013
I've used bittorrent in the past, but after many issues the past few months I decided to try a couple of others, Vuse and qbittorent. The only positive thing I can say is that Vuse does make it easy to manage downloads. It uses 100% of my cpu and it often freezes changing windows within Vuse.
Vuse is bloated crap, I'm sticking with qbittorent, nothing fancy but effective
eMWu reviewed v4.8.1.2 on Dec 19, 2012
Although I agree uTorrent is better in many respects (especially the 2.x branch), I switched to Vuze to take advantage of 3rd party plugins that are available for it. It lets me fully automate my torrent downloads, like auto assign categories and then put them in specific folders based on the category.
Couldn't find a way to achieve that in uTorrent, or any other windows client for that matter.
FatBastard reviewed v4.8.1.2 on Dec 18, 2012
I love to hate this program :>
YoungOldies reviewed v4.8.0.0 on Oct 26, 2012
slow and cpu eating JAVA is so passé.
Ball Sacks reviewed v4.7.2.0 on Oct 11, 2012
if you have 1tb of ram then go for it.

My Computer Specs:
-------------------------

*CyberpowerPC*
-Board: ASUSTeK Computer INC. "M4N68T-M-V2"
-1 TB HD (also a External 1TB, 1TB, & a 200GB HDs)
-Ram DDR3: 16GB (2 x 8GB) Kingston Technology HyperX Blu Red Series 1600MHz OC "KHX16C10B1RK2/16"
-Video Card 560 SC (EVGA SuperClocked GeForce GTX 560 "01G-P3-1461-KR")
-750 Watt PSU CORSAIR Enthusiast Series "TX750"
-Acer 20'"1600x900Max Rez" LCD (Acer X203H bd 20-Inch 720p LCD Monitor)
-Phenom II X4 955 Black Edition 3.2GHz AM3
-Win 7 64bit
-Win 7 Rating: 5.9

--------------------------
More PC Info:
--------------------------

-CPU Rating: 7.3

-Ram Rating: 7.5

-Video Card Rating: 7.6

-HD Rating: 5.9

-Paging File Size 24,574GB (Fixed Size)

-Microsoft Xbox 360 Controller for Windows (Black!)
--------------------------