File Details

File Size
25.6 MB
License
Shareware, $54.95
Operating System
Windows 7/8/Server 2008/Vista/XP
Date Added
October 7, 2016
Total Downloads
12,660
Publisher
Ipswitch, Inc.
Homepage
WS_FTP Professional
Publisher's Description
WS_FTP Professional is a Windows-based file transfer client application that is used to transfer files between your local PC and a remote FTP server. With WS_FTP Pro, you can connect to any FTP server, browse through directories, and files, and transfer files in either direction.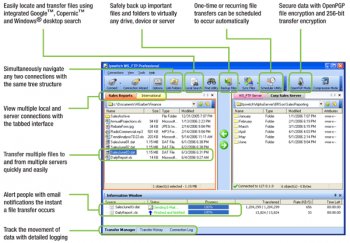 View Full-size
Latest Reviews
mharvey reviewed v12.2 RC on Sep 22, 2009
Once upon a time, in the Windows 3.x days) this was the best FTP client that I could find. I have long since moved on and I use Core FTP now and I could not be happier.
vesku reviewed v2007.1 on Nov 5, 2008
This is by far the best ftp client around. It has been there for ages, no other ftp client can touch this - well worth the price.
Orbitration reviewed v2007.1 on Jan 18, 2008
Ditto all that... this app has gone the path of Nero, Windows, Norton, etc. B.L.O.A.T.W.A.R.E.

IMHO, the last good version was v8.03
boaz reviewed v2007.0 on Jul 20, 2006
Save your $55 for something more worthwhile. I stopped using this, beginning after version 5.x. It started behaving buggy for me in later versions. What I used to consider the best FTP client, is now the worst IMHO!
soroc reviewed v2007.0 on Jul 20, 2006
The best program out there for FTP transfers.
zridling reviewed v2007.0 on Jul 19, 2006
Since version 5.x, WS_FTP Pro's reliability has long given way to its needless complexity (and ridiculous cost, even to upgrade each year). This is the worst of the "kitchen sink" approaches to software coding. Find an alternative.
iroast reviewed v2007.0 on Jul 19, 2006
It's actually $55 w/o service/support agreement and w/o upgrades.
pyridox reviewed v2007.0 on Jul 19, 2006
We had used WSFTP for several years where I work. But sadly, the last couple of years, they tried making the program look more beautiful & added features which we didn't need. We switched to FileZilla which is "open source", supports SSL\SSH encryption, and has a clean GUI with drag n' drop, which meets most of our needs.

I found out about "FileZilla", here on Betanews by the way. Do a search for it.
VictorAnderson reviewed v2007.0 on Jul 19, 2006
I see it's now up to a whopping $120. Interesting, seeing how there are a zillion free FTP clients that do everything this one does.

Funny thing on their website. its says "40 million customers can't be wrong!".
ummm...well apparently they can! And quite frankly I don't belive their are 40 million paying customers of this pile of junk either.
zridling reviewed v2006.01 on May 13, 2006
With a $90 price tag for one year of upgrades, this has got to be a joke. Right? Who buys this? Who could afford to?