File Details

File Size
8.2 MB
License
Shareware, $19.00
Operating System
Windows (All)
Date Added
April 26, 2023
Total Downloads
2,073,283
Publisher
Singer's Creations
Homepage
Weather Watcher Live
Publisher's Description
Weather Watcher Live is your personal, real-time Windows desktop weather station. View real-time weather conditions in your neighborhood from NWS, WeatherBug and Weather Underground weather stations. Automatically retrieve the current conditions, hourly forecast, daily forecast, severe weather alerts from NWS (US only), and weather maps for thousands of cities world-wide. The current conditions can be quickly viewed by holding your mouse pointer over the Weather Watcher Live system tray icon.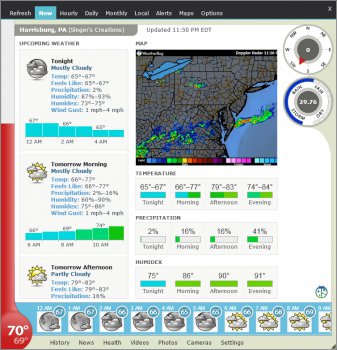 View Full-size
Latest Reviews
elopez172365 reviewed v7.2.061 on Feb 14, 2022
There are better tools for weather and free like Weather Underground
prashanth121 reviewed v7.2.213 on Aug 17, 2019
Very nice! Looks great, small .. what I've been looking for. Now, just make the tray tooltip display the temperature.
Top 10 mobiles in india
gsteele reviewed v7.2.146 on Nov 18, 2018
I am part of and use Weatherunderground for free and get more accurate forecasts.
Uriel reviewed v7.2.0.80 on Dec 22, 2016
Yearly subscription. No alerts for Canadians. Have to give out your email address for the trial key. App itself is okay.
GrailKnight reviewed v7.2.0.43 on Jan 13, 2015
Had its day and that was long ago.
whiterocker reviewed v7.2.0.30 on Dec 5, 2014
Nice app but not worth $19 when WeatherBug http://weather.weatherbug.com/
has the same features. Many version done for ADVERTIZING on new software at fileformbetanews? But try :http://weather.weatherbug.com/ for an FREE smart looking app with no bundleware & very limited advertizing.
Mike Singer reviewed v7.2.0.18 on Oct 6, 2014
@gatorfan95, value in the eye of the beholder. Weather Watcher would not have been around since 2000 if people were not buying it.
gatorfan95 reviewed v7.2.16 on Sep 19, 2014
$95.00 for a lifetime subscription? Right. Even if this thing was better than going to my local weather station on the Web, which it's not, it isn't worth almost $100.00
Bradbull reviewed v7.2.10 on Aug 6, 2014
Not bad. Could be more clear.
TomA102210 reviewed v7.1.135 on Mar 11, 2014
As usual, Mike, the program gets better and better. When you came out with the life time subscription I signed up for that simply because based on my past experience with you and Weather Watcher I know that you are good for your word. I look forward to a continued and long relationship with you and Weather Watcher Live and i know that I'm going to be getting more than my money's worth.