File Details

File Size
0.9 MB
License
Freeware
Operating System
Windows 2000/9x/XP
Date Added
January 18, 2005
Total Downloads
45,952
Publisher
WellGet Soft
Homepage
WellGet
Publisher's Description
WellGet is a download manager for a new generation. It has broken through the mode of downloading software of the tradition by having various kinds of to download tools all protocols.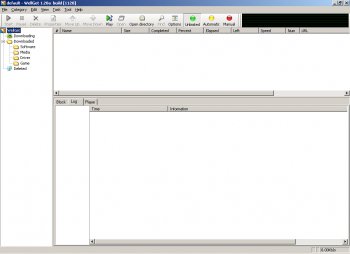 View Full-size
Latest Reviews
Pantagruel reviewed v1.25 Beta 1 on Jul 17, 2006
Well,
I liked it alot, however I switched over to FDM, because wellget didnt support https transfers. I am not sure about this beta though, gotta download and try
1uk3 reviewed v1.23b on Jul 14, 2006
Great software. Version 1.25 is out but just not listed here at FileForum.

http://www.wellget.com/download.asp
devilrider reviewed v1.23b on Jan 22, 2006
i use 1.25 beta since some while now.

i know heres some updates in chinese till december 2005 but no englisch versions.

But i'm courieous what happend to the software, Hompage is down too since a while. anyone got infos ?

This software roxx its a freeware version of FlashGet more or less. Some small bugs due beta but one can live with them. (like stoping a singe download not works properly stopp all works)
SirMango reviewed v1.23b on Dec 28, 2005
Really good software. It's fast on loading compared to others: load in like 1.5 seconds. One of the reasons why I use this is the support to download streaming files. I wonder if the developpement of this is dead? This hasn't got an update for a very long time
DiGiTaLFX reviewed v1.23b on Mar 13, 2005
I like this program. VERY quick even with just a single segment download. True it is a bit of a resource hog, and slows comp down. but runs fine for the odd large download. Didn't manage to get the mms:// working which was my original reason to download it. Needs the ability to play mms streams through http. Also needs to remember that I have a proxy rather than making me choose it from a list each time. Otherwise its good.
luisasloane reviewed v1.23b on Feb 7, 2005
no way to use, I tested it on 2 Pc, both downgrade for at least 25% in performance... and they are P4..... what a sucker!
ciao
bugmenot reviewed v1.23b on Feb 6, 2005
Looks very similar to free download manager..
hardgiant reviewed v1.23b on Feb 5, 2005
Give it a 4 only because net transport seems to handle certain protocols better.

When wanting to download video streams WellGet was not able to download the REAL file but the .php or .htm or .asx which is annoying.

Hopefully WellGet will improve since Net Transport is now moving towards full shareware.
mcm reviewed v1.23b on Feb 5, 2005
Wow, this is pretty much identical to FlashGet (even has Site Explorer). But this gets my support because it's free and doesn't have advertising bundled with it. There are many minor changes I would like to see that will no doubt happen as this product matures.
scriptee reviewed v1.24b Build 0112 on Jan 14, 2005
As have most of you ... I have gone through many download managers over the last couple of years, and I really think that this one is the most fuss free / no BS of the lot :-) Hapily give it 5 stars for that.