File Details

File Size
3.9 MB
License
Adware, $29.00
Operating System
Windows 2000/9x/Server 2003/XP
Date Added
November 23, 2007
Total Downloads
40,633
Publisher
e-merge GmbH
Homepage
WinAce
Publisher's Description
WinAce is an archiving utility with an easy-to-use interface for creating, extracting, and viewing archives. It includes built-in compression for ACE, ZIP, LHA, and MS-CAB formats, and built-in decompression for ACE, ZIP, LHA, MS-CAB, RAR, ARJ, ARC, GZIP, TAR, and ZOO formats. You can create multi-volume (disk-spanning) archives for ACE and MS-CAB formats and self-extracting archives (sfx) for ACE and ZIP formats.
Note: Now available as Shareware of a Free Ad-Supported version.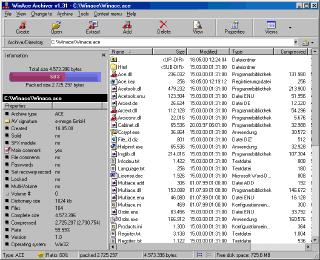 View Full-size
Latest Reviews
Tao2005 reviewed v2.69 on Dec 3, 2007
I do agree, that winrar is better. Though once registered, the ads disappear. When you look at it, winrar, winzip, etc. Are all the same, just different UI.
Qlib reviewed v2.69 on Nov 29, 2007
..its pretty much a dead format now.. the fact that the installer crashed my windows when it finished just doesnt help..

winrar for the win!
zridling reviewed v2.69 on Nov 26, 2007
What bigmama said!
bigmama reviewed v2.69 on Nov 25, 2007
Don't bother...

Buy WinRAR
xanderzone365 reviewed v2.69 on Nov 24, 2007
Bundled with ADware
why hello there reviewed v2.69 on Nov 24, 2007
used to be a good format still is sort of.

ace is good for text/doc file compression if you're somebody who doesn't like to use a command line compressor as the best fast text compressor happens to be a command line program call QUAD.

I don't use ace due to the fact I don't like adding WinACE + WinRAR in the same shell ext. as it takes up a lot of space on right clicking.
guti reviewed v2.69 on Nov 24, 2007
ACE used to be an excellent product, back in version 1.x.

Version 2 of ACE and WinACE, where great, with superior compression, and an nice interface.

Unfortunatelly, 2.x has been with almost no changes since 3-4 years ago.

If you want to pay, try WinRAR, or better use 7-Zup for an open source one.
armpit reviewed v2.69 on Nov 23, 2007
No longer a relevant compressor, much less when it is now bundled with spyware/adware/whatever-ware. 7zip and Winrar all the way.
Reverb reviewed v2.69 on Nov 23, 2007
@WinAce Staff:

It would be interesting to see what methods you use to classify Adware and Spyware. Any software that tracks or monitors visited websites and sends this information to a server is considered Spyware. WhenU has long been known to engage in deceptive business practices:

http://www.benedelman.org/spyware/whenu-spam/
http://www.benedelman.org/spyware/whenu-privacy/

WhenU supported software should be avoided at all costs due to their shady history.
hell0 reviewed v2.69 on Nov 23, 2007
totally agree. winace and its .ace format were good a couple of years ago but compared to winrar and 7-zip supported compression formats and the ratio of .ace are not up to date. i thought winace had died long time ago...