File Details

File Size
1.6 MB
License
Freeware
Operating System
Windows (All)
Date Added
June 16, 2016
Total Downloads
10,464
Publisher
Parmavex Services
Homepage
WinAudit
Publisher's Description
WinAudit performs an exhaustive audit of the hardware and software configuration of your computer. The audit report contains details on installed software, license information, peripherals, memory usage, processor model, network settings, etc. You can view the audit report on screen as well as save it in web page, text, and spreadsheet formats.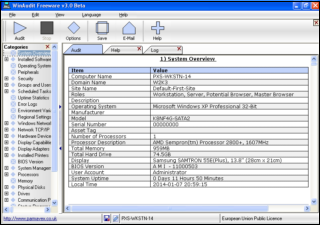 View Full-size
Latest Reviews
Sven123456789 reviewed v3.0 on May 16, 2014
This version, the download doesn't work
Zoroaster reviewed v2.29 on May 9, 2013
I like WinAudit, but there is a slight confusion concerning its coming back :
Version 2.29, appearing on several web sites as a new version, is out since July 12th, 2011 at least (that's when I had it downloaded)
Remains a good application.
Sven123456789 reviewed v2.27 on Jan 25, 2009
Great software. Does what is says in detailed faction. If u really want to know whats in your pc. This is the product for you.
anomoly reviewed v2.26 on Oct 5, 2007
wtf?
Altman reviewed v2.26 on Oct 4, 2007
Does a very good job of reporting the system and it is very complete (almost too complete). I also like that it is a standalone exe file and no installation of any kind. An application like this needs to be that way. The interface is simple to understand and use.
Sven123456789 reviewed v2.26 on Oct 4, 2007
Good program. Been looking for something like this for awhile. Pretty much gives you an entire bio of your pc and what you have on it.
stisev reviewed v2.18 on Apr 9, 2007
Awesome!
luizroberto reviewed v2.17 on Jan 4, 2007
Very Good, it generated a very complete report
DEFo reviewed v2.14 on Jun 16, 2006
Works very fine even in safemode. not a great interface (that's why i didn't gave 5), but that's not the point of such a soft.
jerry4dos reviewed v2.08 on Mar 1, 2006
Worked perfectly for me on Win2K and also Win95.