File Details

File Size
8.7 MB
License
Open Source
Operating System
Windows (All)
Date Added
October 30, 2023
Total Downloads
63,036
Publisher
Thingamahoochie Software
Homepage
WinMerge
Publisher's Description
WinMerge is a tool for visual difference display and merging, for both files and directories. It has Unicode support, Flexible syntax coloring editor, and Windows Shell integration. Regexp filtering for filenames and lines. Side-by-side line difference and in-line word difference visualisation. A file map shows the overall file differences in a location pane. The user interface is translated into several languages.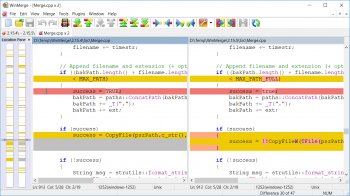 View Full-size
Latest Reviews
YStevaert reviewed v2.13.20 Alpha on Aug 28, 2011
Abandoned in a horribly bad, unreliable state.
RitoSwan reviewed v2.13.20 Alpha on Oct 21, 2010
This tool seriously contains CRC checksum methods for folder comparison.
Using the bit-for-bit comparison it takes ages.
reddy.shyam reviewed v2.13.14 Experimental on Sep 17, 2010
Development has almost come to a standstill but I guess nothing new can be added. Serves my purpose.
anomoly reviewed v2.13.11 Experimental on Feb 4, 2010
As a very nice alternative try Diffuse from sourceforge (python).
http://diffuse.sourceforge.net/
It works with files only & is very simple to use.
Excuse the horodruin ref. It is a folder type sync ap for which I would probably use over this. Not a fan of the gui here.
rip_pit reviewed v2.13.8 Experimental on May 26, 2009
using it for a long time. Never had errors while comparing, and perfs are good even with big folders (under xp). Maybe you should not use "Experimental" or "Nightly builds" and stay with stable releases
GerritWittesaele reviewed v2.13.6 Experimental on Apr 16, 2009
Comparison is not trustable.

Sometimes it does not detect file differences while they are there.
So, what's left for this tool ?
anomoly reviewed v2.13.4 Experimental on Mar 18, 2009
I tested this with 2 different folders that I wanted to be the same and it seemed to take foreeeeever. In comparison, I tried Horodruin and it was ten times faster.
DudeBoyz reviewed v2.13.2 Experimental on Jan 28, 2009
I really want to like this program. But I'm struggling with the interface and the number of colors used by default in order to get the point across.

It's like a good book with a bad cover, you know?

Still. Open Source. Great move. I'd surely give it a solid 3.5 if we could, but I don't feel comfortable giving it a full 4.0.

I'm glad it's out there, but at the same time, I hope contributors to the project will be able to focus on some usability issues related to the interface and color scheme. Interface design can be a daunting task. I hope they can get it right.
Andy Dean reviewed v2.13.1 Experimental on Jan 15, 2009
I can't praise this app highly enough.
Works straight out of the box and does exactly what it is supposed to.
I use it on a regular basis.
Kevin_S reviewed v2.11.1.8 Experimental on Dec 19, 2008
I was a Beyond Compare user prior to discovering this tool. Even though my company had purchased a copy of Beyond Compare for me, I uninstalled it and began using WinMerge. I love it and use it every day. Well done!