File Details

File Size
1.4 MB
License
Freeware
Operating System
Windows 7/8/10/Vista/XP
Date Added
May 8, 2017
Total Downloads
24,432
Publisher
BillP Studios
Homepage
WinPatrol
Publisher's Description
WinPatrol monitors your computer and does not allow applications to simply add themselves to the startup menu or associate files to themselves. Everything is caught by winpatrol. It then asks if you agree to what modifications are being done or not.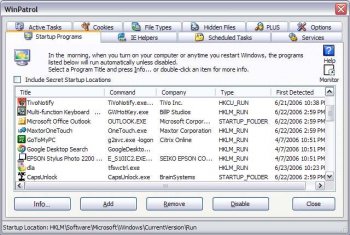 View Full-size
Latest Reviews
kstev99 reviewed v30.5.2014 on Mar 19, 2014
Excellent Program ! One of the first things I install on a new computer. Sure, I use a good AV and MalwareBytes, but Winpatrol warns me every time someone tries to sneak an Auto-Updater or something worse into my startup..... or Tries to change my browser homepage or File associations without permission. Very light on resources, and the paid "Plus" version is well worth the few bucks.
Music4Ever reviewed v29.1.2013.1 on Dec 9, 2013
Great program, useful & worth every penny for the plus version - The guy who runs it has ethics too.
Music4Ever reviewed v26.1.2013 on Jan 7, 2013
This update is actually quite old but a most useful program, well worth buying the Plus version.
Music4Ever reviewed v25.6.2012.1 on Sep 20, 2012
Warns me of programs removed & start up programs removed or added & windows systems added & more, well worth running on any PC - A must have & I can't fault this program or the developer.
cltx99 reviewed v25.0.2012.5 on Jul 16, 2012
I've been using Winpatrol for years on all of my computers. It has always done what it is meant to do and it's very user friendly. I have nothing negative to say about it.
Music4Ever reviewed v25.0.2012.5 on Jul 13, 2012
Looks like the last two releases were bug fixes, though not had any issues - Getting better all the time.

@Zootopia3001- Impressed with Ghostery you mentioned on AM review, better than DoNotTrack+ I was using, a brilliant add-on !!
Zootopia3001 reviewed v25.0.2012.5 on Jul 13, 2012
Has had some quirks now and then in the last year(on my XP system) but seems to be resolved now. This is the only active realtime security that I use(paid version) other than Comodo Firewall and OpenDNS. Everything else is passive along with set security settings done either by myself or with the aid of other software such as Windows Worms Door Cleaner, Script Defender and others.

Scotty won't sell you out for a cheeseburger. Always on patrol. Nice software.
Music4Ever reviewed v25.0.2012 on Jul 9, 2012
Excellent program that's worth each & every penny ~
Midnight Rambler reviewed v24.1.2012 on Mar 23, 2012
Got this program cheap but found one reason was that the author takes forever to answer support emails.
Uriel reviewed v24.1.2012 on Feb 2, 2012
Scotty the watch dog is loyal as a dog can be. I have the paid version and this application(Scotty) alerts me whenever updates attempt to re enable start up functions that I don't want running in the back ground. Scotty also guards the registry and prevents changes to it without your consent. There is a host of other features too that will help to make your system more secure in both the free and paid versions.