File Details

File Size
3.3 MB
License
Shareware, $29.00
Operating System
Windows (All)
Date Added
March 4, 2022
Total Downloads
623,189
Publisher
Alexander Roshal
Homepage
WinRAR
Publisher's Description
RAR is a general purpose archiving and compression program competing with/replacing programs such as PKZip, ARJ, and others. It offers significantly improved compression ratios, easier use and a cheaper price as well as supporting long file names, disk spanning, and self-extracting file creation.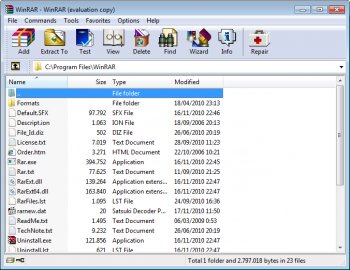 View Full-size
Latest Reviews
aszure reviewed v6.10 on Jan 26, 2022
Works great, but can't justify that price when there are many free options available.
Moler_Stagi reviewed v6.02 on Jul 18, 2021
using it for many years and it works great
melissachris reviewed v6.02 on Jun 21, 2021
Good app
Robin6060 reviewed v6.01 Beta 1 on Apr 7, 2021
however, if you are looking for a tool for working with archives then this application is for you.
kstev99 reviewed v5.70 Beta 2 on Feb 22, 2019
Still simply the best. This version (5.70 Beta2) fixes a critical security bug, and If you are currently using WinRAR you should update or read this article on Ghacks for more information.

https://www.ghacks.net/2...ity-bug-here-is-the-fix/
roman313 reviewed v5.61 on Oct 3, 2018
Best, old program for a many systems
kstev99 reviewed v5.60 Beta 1 on Mar 12, 2018
Still the best archive manager out there. I like the new icons with this version, but still prefer the "Gorilla" theme from the rar labs website. It looks very classy.
Music4Ever reviewed v5.50 Beta 2 on May 6, 2017
Simply the best ! (better than all the rest) Nuff said.
kstev99 reviewed v5.31 on Feb 9, 2016
The BEST archiving program, hands down!
Lifetime License is well worth the investment,

What it DOESN'T do is Milk more money from users on a yearly basis or for major upgrades.7zip is also good, but lacks features such as comments in archive, recovery etc.
roymccoy reviewed v5.30 Beta 5 on Oct 10, 2015
New in version 5.30 beta 5

1. Information about the critical vulnerability in WinRAR self-extracting
archives recently published in news is incorrect. Unfortunately
mass media failed to recognize that what was described as WinRAR
vulnerability is Windows OLE vulnerability patched in November 2014:

https://technet.microsof.../security/ms14-064.aspx

Even if unpatched, this Windows OLE vulnerability does not introduce
new risk factors for WinRAR SFX archives.

Please read http://rarlab.com/vuln_sfx_html2.htm for more details.

No patches for WinRAR are needed.

2. "Import/Export" commands:

a) WinRAR performs the additional validation of Settings.reg contents
for "Import settings from file" command to prevent importing Registry
keys unrelated to WinRAR settings;

b) WinRAR specifies the full path to regedit.exe tool to prevent
running copies of "regedit" from other folders.

3. Bugs fixed:

a) If 'file' and 'file.exe' were present in the same folder
and user double clicked on 'file', WinRAR could start 'file.exe'
instead;

b) "Generate report" command could create a report in wrong folder,
not that with selected files;

c) RAR could crash when unpacking .rar archives with corrupt file
headers. Fixed now.