Other Versions
Publisher's Description
WinTools.net is a suite of tools for increasing operating system performance. WinTools.net cleanly removes unwanted software from disk drives and dead references from the Windows registry. It puts you in control of the Windows start up process, memory monitoring and gives you the power to customize desktop and system settings to fit your needs.
The Professional version adds more speed and stability for your connection. Ensures your privacy and keep sensitive information secure. WinTools.net Professional contains tools: Clean Uninstaller, Scan Files, Scan Registry, Start Up, Tweak UI, Net Tweaker, The Privacy, etc.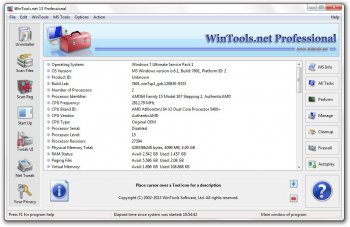 View Full-size
Latest Reviews
CyberDoc999 reviewed v16.4.1 on Apr 21, 2016
another reg cleaner made for xp
mike59 reviewed v10.7.1 on Jul 6, 2010
Overpriced n00bware / registry destroyer. Cleaning the registry is the worst thing you can do to a PC.
Zoroaster reviewed v8.2.1 on Mar 5, 2007
There's no "winning system", no mysterious unrevealed hidden secrets about system enhancement. But if you want a sum of true tweaks, then this package will be fine. A bit expensive in my opinion for a simple collection of known speed, stability and security issues.
Dirk van Hoofen reviewed v7.7.1 on Jul 26, 2006
Supports a lot of languages; remove invalid registry-entries. For me personally a effective software.
Bachalor reviewed v7.7.1 on Jul 26, 2006
This tool has a lot of internal functions.
I work now over 2 years with it and i have throughout good experiences with this software
MegaManX reviewed v7.4.4 on Jul 24, 2006
I don't know what people are talking about
this is a great advanced program that beats most tweakers at features
however I can see where people might have screwed something up because they didn't know what they were doing
excellent proggie :)

cons: costs money but doesn't a lot of good software
Earwicker reviewed v7.4.1 on Jun 1, 2006
OK I suppose. Not a big thrill. Does what other programs do for free, basically. It's easy to use and fixes some common Windows problems with a few tweaks... ho hum.
BogdanSHA reviewed v7.4.1 on May 27, 2006
I use this on a weekly basis and works ok. Finds much more registry problems than ccleaner.
JD-main reviewed v6.5.1 on Nov 23, 2005
I've run this cleaner on my PC and it found some errors.
After the restart my Messenger didn't start, AutoCad can't boot!!!!

This is dangerous software. That's why I don't trust this registry cleaner. There are some new cleaners and they are much better and safier.

I would rating it below zero if I could!
TeddK reviewed v6.5.1 on Nov 23, 2005
This software found only 10 errors on my pc while other Cleaners found from 150 to 340.
This is not impressive result. I don't know what this software made for.