File Details

File Size
3.6 MB
License
Freeware
Operating System
Windows 2000/9x/Server 2003/XP
Date Added
August 10, 2006
Total Downloads
27,384
Publisher
Winamp Alternative
Homepage
Winamp Alternative
Publisher's Description
Winamp Alternative is a free alternative codec to Winamp. With it you can play ShoutCast streams without installing Winamp.
This codec installs The Gabest ShoutCast Source Filter; Media Player Classic 6.4; VP5 Plugin for Real player (to play some nsv streams in Real player); OGG Vorbis/Theora Plugin for Real; and Mozilla Firefox NSV: VP3/MP3 Plugin.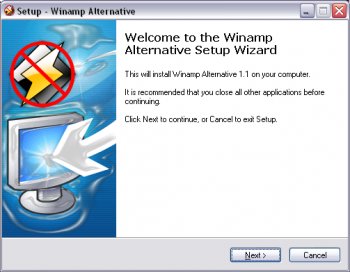 View Full-size
Latest Reviews
Sephiroth... reviewed v1.1 on Mar 14, 2008
Nikki, actually exist a Firefox alternative, this its call Opera and it much better, but who need a Winamp alternative if Winamp is a totally bloated crap. Aimp and XMPlay kickass to winamp ;)
doctorsmith reviewed v1.1 on Aug 15, 2007
I'm sticking with Winamp Alternative Alternative ;-)
Nikkie reviewed v1.1 on Nov 2, 2006
see what happens when everyone goes anti for no reason... this is the birth of that nonsense..

next..firefox alternative !!

ok..**runs**
bugmenot reviewed v1.1 on Aug 13, 2006
flashhh: why don't you just install Winamp 5 with the classic interface then? --> New core, good ole' look.
flashhh reviewed v1.1 on Aug 12, 2006
Winamp 5 has a crappy interface, and the old versions are full with system issues. I personally reinstalled my windows copy because of a Winamp 2 version.
the artist reviewed v1.1 on Aug 11, 2006
no watchapa, this is totally needless crap.
smanofsteel76 reviewed v1.1 on Aug 11, 2006
I can't believe anyone would want an alternative to the best! What's the point? Get the real thing. WINAMP RULES!!!!
arossetti reviewed v1.1 on Aug 11, 2006
Well, the program works as advertised hence the 5 rating, but is it needed? When the alternative is bigger than the original, and the original can be lightened further upon installation, the point of the alternative is......what?
ds0934 reviewed v1.1 on Aug 11, 2006
Crap. Who needs and alternative to the alternative? There are plenty of shoutcast players out there. WinAmp does more than just shoutcast radio and tv and mp3 libraries. Oh yeah, it's still free. You don't need pro unless you can't handle using a separate util for burning cd's. Geez.
Watchapa reviewed v1.1 on Aug 10, 2006
Question : if I have QT and Real Alt, having Winamp Alt is it usefull ? (I use MPC and foobar)
Thanks.