File Details

File Size
0.6 MB
License
Freeware
Operating System
Windows 2000/9x/Server 2003/XP
Date Added
April 17, 2003
Total Downloads
31,920
Publisher
Nullsoft
Homepage
Winamp
Other Versions
Publisher's Description
Nullsoft Winamp is a fast, flexible, high-fidelity music player. Winamp supports MP3, CD, Audiosoft, Audio Explosion, MOD, WAV and other audio formats, custom appearances called skins, plus audio visualization and audio effect plug-ins.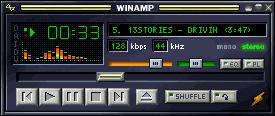 View Full-size
Latest Reviews
Nikkie reviewed v2.91 on Nov 2, 2006
Media player classic and programs like winamp/foobar are in a whole other class.
preciousjames reviewed v2.91 on Aug 9, 2006
Sorry Winamp... I'm switching to Media Player Classic with Quicktime Alternative: http://www.free-codecs.c...ickTime_Alternative.htm

Thanks for the memories and continued success to the developers!!!
odellkevin reviewed v2.91 on Mar 11, 2005
Tried 3.x..sucked! Tried 5.x...not bad, but more than I want. I just want something easy and cool to listen to mp3's. But, I don't use 2.91, I use 2.81, last "good" 2.x version. After 2.81, if you are running WinAmp, and run any program that changes screen resolutions (games, etc), when you exit back to your desktop, WinAmp is in the middle of your screen, it won't stay docked where you left it. This is a bug from 2.82 to 5.02. So, pick your favorite plugins, and run 'em in 2.81.
fxer80 reviewed v2.91 on Apr 18, 2003
WHY DO THEY HAVE TO SCREW UP EVERYTHING! Now they are dragging the winamp 2.x series into the muck where the 3.x series already is! The same thing happened with ACDSee 2.x was great, 3.x started getting bloated and 4.x/5.x were just jokes, trying to be photoshop just like winamp is trying to be windows media player. I guess 2.81 will be the best version of winamp ever made, may it live forever!
busta reviewed v2.80a on May 1, 2002
Still the best MP3 player mostly for the wide range of plugins. I don't understand the previous comment about Winamp 3 being "digital" or whatever Winamp 3 doesn't really function any differently than v.2 (it's not like Winamp 2 is analog), and the MPEG decoders are probably nearly identical so I don't know why Winamp 3 would sound better (possibly better EQ?). What you should be using anyway is MAD MPEG decoder (in_mad.dll) for winamp and Naoki's super EQ.
sheedoshi reviewed v2.80 on Apr 24, 2002
Winamp 2.80
Excellent program, the loading time is even better then in previous versions it shows that there still is support for 2.xx winamp even though 3.0 is out which is still in beta3 and though it's digital and better sounding than 2.xx still is a bit buggy and takes awhile to load.
To sum it up winamp is the best mp3 player I've used, it's very low on resources too.
dr4gn reviewed v2.74 on Apr 3, 2001
awesome mp3 player
svedburg reviewed v2.72 on Jan 18, 2001
Just thought I'd point out that with this version, if you have Napster going, and start playing a song that is partially completed, it will stop at the point of progress that it was at when the song started playing. This is new from 2.71
Xenex reviewed v2.666 on Nov 10, 2000
I've always loved Winamp (and clones... XMMS, CL-Amp...). It just has a very useable interface.

I'm using 2.7-RC3 right now, ID3v2 support is hugely improved over 2.666 (interface, and the old version crashed Winamp a fair bit for me).

Anyway, has anyone got a direct link to RC7 (or later)? It seems to be gone off the link ( http://genghis.winamp.com/~deadbeef/p/wa27rc7.exe isn't working it seems)
Prioratus reviewed v2.666 on Nov 6, 2000
I still use Winamp 2.64 because it was the last version before Nullsoft was bought by AOL. Not taking any risks.
I'm pretty sure that AOL will either slowly make winamp a bannerware like they are doing with ICQ, or simply charge for it. After all, they didn't buy NullSoft to please the customers. They had a marketing plan in mind.