File Details

File Size
13.3 MB
License
Freeware
Operating System
Windows 2000/9x
Date Added
January 7, 2003
Total Downloads
168,771
Publisher
Microsoft Corp.
Homepage
Windows Media Player
Other Versions
Publisher's Description
Windows Media Player is the multimedia software developed by Microsoft to provide users with the ability to view multimedia content, both from the Internet and from their hard drive. This program allows you to view MPEG and various other types of video content, as well as audio clips.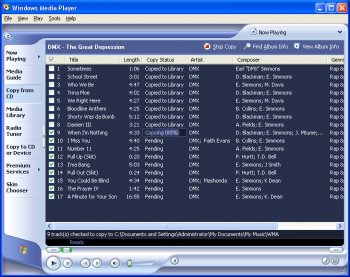 View Full-size
Latest Reviews
rjonesx reviewed v9.0 on Feb 8, 2006
Windows media player continues to get worse and worse and I dont know why. But, honestly, there really arent any fantastic alternatives either
hines reviewed v9.0 on Feb 8, 2006
how do i get rid of this? when i try to remove program it is not there.....help
imanino reviewed v9.0 on Dec 26, 2005
REad my comments on WMP 10 and then avoid the monster. On the other hand if you must have post 6 WMP functionality, this is the last one that doesn't integrate itself in an inextricable way to the OS. If you can avoid the pain, run back to 6.4 and resist all temptations for an upgrade. Better than 10, but still greedy about extensions and associations, memory hogging, and downright ornery with competitive software. I only use post 7 WMP on computers that have no other media players installed. If you disregard that, get ready for Microhard Times.
WMP 9 is a not bad player for WinXP. However, the main enhance functions (e.g. crossfade, play speed, etc.) are not available for Win9x/2000 User. For these user, WMP9 for Win9X/2000 is only update the codec inside and nothing more. It use more than 10MB memory. So I don't recommend the Windows 98/Me/2000 user to install.
IGx89 reviewed v9.0 on Jan 8, 2003
Guys, the WMP9 installer gives full details on everything privacy-related, and lets you disable anything (privacy-related) you don't like.
apapiro reviewed v9.0 on Jan 8, 2003
Italy. Non e'il migliore.
AnthonyB reviewed v9.0 on Jan 7, 2003
The Homepage link up on the top-right corner is wrong. It should be http://www.microsoft.com...dia/9series/player.aspx
chimpypimpy reviewed v9.0 on Jan 7, 2003
The best media player by a mile.
DivineDark reviewed v9.0 RC1 on Nov 1, 2002
I agree do yourself a favor and keep winamp2 and wmp 6.4. windows media player 6.4 plays divx flawless. Downloading this program and installing it is like asking microsoft to violate your privacy and control what you listen and watch. booo on wmp 9
j0m reviewed v9.0 Beta Build 2800 on Oct 3, 2002
I just started using Windows XP and have been having some problems with playing DivX files using bizzare codecs. I got this beta to see if it will fix the problem. When I double-click on a file it says it can't play it and gives me error messages, but when I drag and drop the file into the already open media player they play with no problems, fixing the issues I had before.