Publisher's Description
Windows Updates Downloader is a small utility that allows you to download all of the current Windows critical updates. All updates are downloaded directly from microsoft.com to your computer with a single mouse click.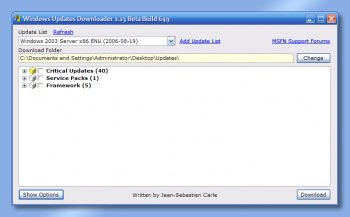 View Full-size
Latest Reviews
Confused.Eva reviewed v2.50 Build 1002 on May 5, 2012
Hi every one! I have to say that for what the program has done so far, I am pleased with it. BUT, .........please someone...... help!! I don't understand it!

It successfully downloaded 90 updates (including some for IE-8, which I do not use) The WUD program has install under C:\Program Files (just how I liked it). But the updates downloaded to a separate folder directly under C:\. It seems to me as if the update list is sitting there but they have not being installed! Doing it manually one by one, means re-starting the computer with every update (90 times!!!!!!!). Can some one help me? What should I do?

I apologised for my ignorance, but one criticism of this program, and an important one, is it does not offer any guidance!
Phat Esther reviewed v2.50 Build 998 on Sep 5, 2009
the best tool
no download link
no problem
100 perfect bugless

hahaha
Stoerpser reviewed v2.50 Build 998 on Sep 4, 2009
Can be a good tool, but it doesn't notify that there are any hotfix-files and the downloader overwrite these files.
aruprc reviewed v2.40 Build 1275 on Feb 28, 2009
Thank you very much for this gem of a tool, after MS killed the autopatcher project, getting updates and storing them locally became a pain. Since I do lots of formats and reinstall of OS, I need to go through the painful process of updating over a slow connection time and time again. This utility saves me all the hassles.
horsecharles reviewed v2.40 Build 1275 on Dec 8, 2008
Jane, you ignorant slut!!!

If you don't know what a product is OR is for-- don't rate it UNTIL you AT LEAST learn something about it.
SIMPLE...otherwise, it helps NO ONE.

Say you just built a new system...or wish to have all updates in one place...maybe to slipstream...then this is for you...

as Windows Update will ONLY give them to you in their entirety after numerous restarts & reconnects(& system restore points)...and that is if no bug / glitch / freeze pops up along the way...

but if you'd prefer to sit in front of your screen for many hours, babysitting the process...feel free...
coover reviewed v2.40 Build 1275 on Dec 8, 2008
How is this different than the Windows Update Software that comes with the Operating Sytem and then is updated by MS whenever they believe it may be beneficial?

Edited: Thank you Horsecharles for your excellent explanation. MS, of course, should have given us this explanation of it's use, and if it had done so, I would not have asked the above question in the first place.

Because of your explanation, I have rerated this a 5 (the 3 was given in order to give it an average rating). Again, thanks.
Ciolouse reviewed v2.30 Build 988 on Aug 5, 2008
Excellent software, but outdated "Updates Lists" (ULs).
mflip reviewed v2.30 Build 980 Beta on Jul 23, 2008
This is a great idea, but when I integrated all of the updates (excluding Service Pack 1) for 64-bit Vista using vLite performance slowed to a crawl. My computer has 6GB of memory and a discrete Nvidia Ge Force 7600GS PCI-e graphics card. When I did a clean install with my RTM Vista DVD and installed SP 1 performance was considerably faster. I also did not experience any of the BSOD's related to using more than 3GB of RAM.
tp reviewed v2.30 Build 980 Beta on Jul 23, 2008
gonna vista?
NurEinTier reviewed v2.30 Build 939 Beta on Jul 17, 2008
Requires .net Framework 2.0