File Details

File Size
2.8 MB
License
Freeware
Operating System
Windows Server 2003/XP
Date Added
March 17, 2012
Total Downloads
200,220
Publisher
ProfessorCPU
Homepage
Windows XP PowerPacker
Publisher's Description
PowerPacker will help a user create a Multiboot Windows XP disk with or without DriverPacks. It will do almost everything for you, even hex edit the files needed to be hexed, create the boot directory, boot menu, etc. It makes creating multiboot XP disks a breeze.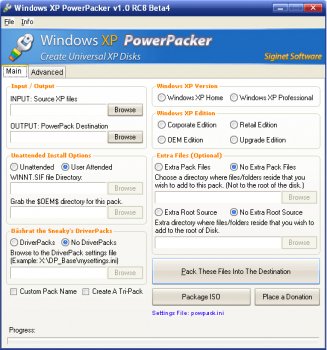 View Full-size
Latest Reviews
israelbribe reviewed v1.0 RC9 on Jan 8, 2010
is for my nephew's new pc
daniel03 reviewed v1.0 RC9 on May 22, 2009
para acomodar mi pc
marques_cavano reviewed v1.0 RC9 on Apr 9, 2009
stisev reviewed v1.0 RC8 on Mar 15, 2007
Although I use nLite for more advanced installs -- I have to say this program is freaking awesome.

No installer
No stupid reg entries (all are saved in an .ini file)
No dll replacing.

Very nice! 5* +++
ricktendo64 reviewed v1.0 RC8 Beta 4 on Jul 23, 2006
Siginet Rocks
Diam0nd reviewed v1.0 RC8 Beta 4 on Jun 19, 2006
Very nice and helpful.
zridling reviewed v1.0 RC4.1 on Aug 8, 2005
Truly stupid-proof (speaking for myself), PowerPacker is seriously impressive.
ProfessorCPU reviewed v1.0 RC4 on Aug 8, 2005
Sorry guys RC4 was compiled incorrectly. RC4.1 should be on Betanews.com soon. I have allready submitted it.
vcc reviewed v1.0 RC3 on Jul 14, 2005
I want to recap on what I said earlier and make it clear: PowerPacker is a GREAT TIME SAVER and resource for those looking for a solution to create an all-in-one Windows XP setup CD/DVD with very little intervention. (Saving time from doing the work by hand!). Give it a try and you'll be glad you did.
ProfessorCPU reviewed v1.0 RC3 on Jul 14, 2005
Personally... I don't understand the low rating you have given. The program is not buggy anymore. You obviously did not try it. Also it is not supposed to be like NLite. It is a totally different program. If you don't want a program for making multiboot disks... what are you even rating the progam for? Duh!