File Details

File Size
0.8 MB
License
Freeware
Operating System
Windows (All)
Date Added
January 22, 2009
Total Downloads
4,480
Publisher
Joseph Cox
Homepage
WoWus
Publisher's Description
WoWus (World of Warcraft Updating System) helps you keep up-to-date with the latest add-ons by scanning your add-ons folder and displaying any relevant updates that are required. You can choose which updates to apply and WoWus will then download and install them for you - all with the click of a button. It also has add-on management features and back-up support for updated add-ons.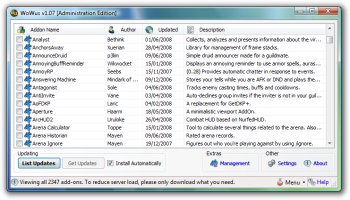 View Full-size
Latest Reviews
BootBlock reviewed v1.10 on Feb 10, 2010
@RastaWorld: That's not surprising considering the application was discontinued almost a YEAR ago (due to Curse's behaviour, no less).
RastaWorld reviewed v1.10 on Jan 23, 2009
Its a nice application, yes... But does not get the latest updates like the one from CURSE. This app is always behind in the mod releases.
darthbeads reviewed v1.00 on Dec 14, 2006
Works great, have never had a problem. For the WoW Addon Addict, I would also recommend the WinAceUpdater at Wowace.com. It updates with bleeding edge revisions, while WoWus only updates released beta and final versions, and lists all available Ace addons, not just those you have installed.
BootBlock reviewed v0.98 on Sep 5, 2006
The hosting server went splat; it should work now. Menting's problem has been fixed in the v0.99 release, so if anyone else had the same thing - it works now.
reets reviewed v0.98 on Sep 5, 2006
Won't install, installer says it's corrupted. Tried from Betanews and downloaded from main site and same thing.

Update: now working perfectly with v0.99. Good idea for software and working great!
menting reviewed v0.98 on Sep 1, 2006
0.97 was working great for me, but 0.98 keeps giving me an error with the add-on updates information. I even tried to delete it and install it again but same problems. Anyone have any ideas?
da3x reviewed v0.98 on Aug 31, 2006
Works for me too now. But I'd like to have some more insight into how it works. Do you handle different versions of different authors? Some addons get improved by others and still have the same name. By what properties are addons identified?

Just discovered that you do not verify the .toc! My Lootlink (enhanced) has gotten replaced by the simplier version allthough the TOC is totally different!
uberfly reviewed v0.98 on Aug 31, 2006
Awesome app! Works great for me - checks all 40 of my Addons without a hitch. Great time saver.
Dwiebelhaus reviewed v0.97 on Jul 15, 2006
Works very well for me but I know a few people who have problems with it.
Somnambulator reviewed v0.95 Beta on Jun 6, 2006
"Added: Mirror support for those that cannot connect to WoWus.m6.net. See Settings"

we cant download the program to access Settings without the mirror =/