File Details

File Size
25.8 MB
License
Freeware
Operating System
Windows (All)
Date Added
September 30, 2015
Total Downloads
227,838
Publisher
XP Codec Pack
Homepage
X Codec Pack
Publisher's Description
X Codec Pack is a complete codec packs which helps you to play all major audio and video formats. To complete your multimedia experience, instead of 3 or 4 different players you get one simple integrated player that plays almost all audio and video files: Media Player Classic Home Cinema.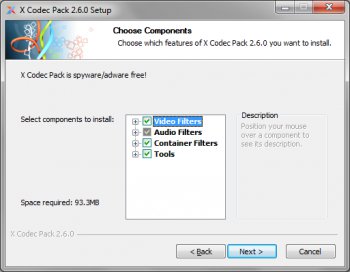 View Full-size
Latest Reviews
BANDIT- reviewed v2.5.8 on Sep 26, 2013
XP Codec Pack is Useful for the Everyday users who just want to play around with Vids & Audio & couldn't care less about AR's, BitRates, Quality etc. Maybe even to use WinMovieMaker to it's full Extent. For the Guys who drop into this category then XP-Cpack is worthy of 5*

If you trawl the Web for Anything & Everything or want to get into Serious ripping, transcoding, Re-Encoding etc. Cover your Asses with one of the Big-Boy Codec packs. They contain Every A/v codec you should need, Tweeking tools, & in some cases, Obsolete codecs are also available. You won't go much wrong with: http://fileforum.betanew...-Pack_Beta/1080441198/1
For the real Serious or Wannabee's .. h**p://free-codecs.com
osama_titos reviewed v2.2.0 Build 514 on Feb 13, 2009
thank u
You two are being closed-minded zealots regarding this codec pack. It is not a "kitchen sink" pack, and in fact has little a sane person would find objectionable. Not only that, you can opt not to install certain items.
lion7718 reviewed v2.3.7 on Apr 16, 2008
@roj:

I agree completely & have said this for years.
All you really need are DivX, XviD & AC-3 Audio...
it is highly unlikely that you will need anything else..not including Real or QT.
roj reviewed v2.3.4 on Dec 8, 2007
IMNSHO, codec packs are a complete and often dangerous waste of time.

Pick the codecs you absolutely need, download the latest versions and install them. Upgrade them only if absolutely necessary - don't jump just because a new version comes out. Your system will run cleaner and give far less grief.

I personally have been using that methodology for years (in my case it's a grand total of 6 codecs, not all of them the latest and greatest versions) and I've never been sorry.

I have however seen the results of using the codec packs and their scattershot approach on the machines of various friends and associates. Many have come crying to me to fix various foibles caused by this type of crap and my advice is always the same:

Reformat and start over.

Apply some intelligent and constructive thought to your particular situation and you won't need rubbish like this.

ONE star for a genre (Cidec Packs) that is FAR more trouble than it's ever been worth.
DudeBoyz reviewed v2.2.0 Build 482 Beta on Oct 4, 2007
The link takes you to an outside page instead of letting you download it from the BetaNews server.

When you are redirected to that page, you are not directed to the 2.2.0 Build 482 Beta, but instead directed to download 2.1.6.

Not very helpful at all.
cltx99 reviewed v2.1.0 on Sep 16, 2007
I have to give it a five thumbs down. It wouldn't install after two tries.
Tao2005 reviewed v2.1.0 on Sep 15, 2007
Microsoft, won't ever wake up, and smell what it's shoveling. However Microsoft did this, then windows wouldn't need to update every month.
DudeBoyz reviewed v2.1.5 Build 418 on May 30, 2007
Again, glad to see the update. Kind of slow in terms of releases and updates, but I guess given the lack of updated codecs, it can be understood.

Thanks for the release.
drumcat reviewed v2.0.6 on Jan 26, 2007
Caused mpeg and wmv problems. Worst part was when I uninstalled, it made things worse. This is, with 2.06, a quagmire.