File Details

File Size
1.0 MB
License
Shareware, $27.00
Operating System
Windows 2000/9x/Server 2003/XP
Date Added
August 29, 2017
Total Downloads
5,471
Publisher
XDESKSOFTWARE
Homepage
XFilesDialog
Publisher's Description
XFilesDialog will improve the Open and Save dialogs for all normal program with new features: a) It will be possible to automatically resize all that file dialogs - and as a result on a 1600x1200 or 1280x1024 desktop you will no longer be forced to "scroll 3 lines at a time" inside a tiny window which was initially designed for a 640x480 resolution - it is also possible to automatically select the type of view that you want, the sort type and sort order. b) It will be possible to have a history of recently-used files and folders.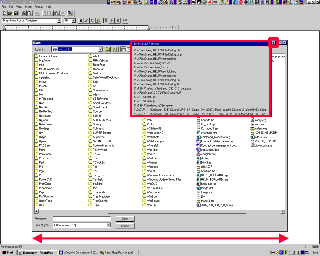 View Full-size
Latest Reviews
raveren reviewed v4.00.211 on Sep 16, 2010
Laughably bad. The application interface is even worse than their site and it's a quite expensive shareware.

Though supported on win7 now, it still uses XP buttons, which look bad even on XP. Ungh.
CyberDoc999 reviewed v4.00.205 Beta on Jul 28, 2010
renting this to you for a yearly fee..... what a joke
Plumber reviewed v4.00.205 Beta on Jul 28, 2010
This software doesn't take advantage of security holes in Windows. It merely uses documented methods (i.e. hooks) to accomplish what it does.

Which isn't much.

It's unstable, and the GUI sucks. And a recurring fee of $35? Come on now.

One star for unusably-unstable software.
The MAZZTer reviewed v4.00.205 Beta on Jul 27, 2010
sbeckstead: How can it be a security problem when you specifically download and run it itself? Plus modifications to other windows like this can't jump security boundaries (IE this can't modify elevated apps unless it too is elevated).

I don't run shareware but rating 4 since there are few apps like this around and there really should be a few more...
sbeckstead reviewed v3.60.193 Beta on Jan 26, 2009
The fact that this works scares me. Yet another security hole in Windows.
Choda_Boy reviewed v3.50.187 Beta on Apr 15, 2008
If the download link is mangled, try this:
http://xdesksoftware.com...7_beta_mdump_signed.exe
guti reviewed v3.30.175 Beta on Jul 3, 2006
Nice app, but in that case, a x64 native version, is almost mandatory.
nikko11 reviewed v3.30.174 Beta on Jun 5, 2006
Very solid program, the buttons is places on the windows are easily removed, works very effectively, does as described.
hardgiant reviewed v3.30.174 Beta on Jun 3, 2006
If only Microsoft would design better dialog boxes so an app like this wouldn't be neccessary.

1. The dialog should have an option to set the size.

2. Allow list, thumbs, details mode, etc,

3. Allow a good list of folders like Office 2003 has on the side.

4. Double clicking title bar should maxmize the dialog box.
guti reviewed v3.20.166 Beta on Oct 16, 2005
3.20.168 beta released.