File Details

File Size
0.4 MB
License
Freeware
Operating System
Windows 7/Server 2003/Server 2008/Vista/XP
Date Added
January 2, 2013
Total Downloads
16,181
Publisher
Xenomorph
Homepage
XdN Tweaker
Publisher's Description
XdN Tweaker is a free tweaking program for Windows XP, Windows Server 2003, and Windows Vista.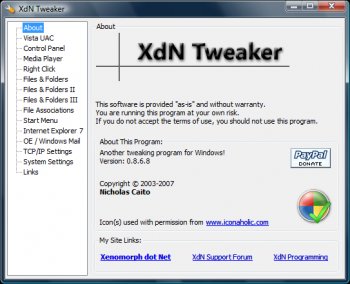 View Full-size
Latest Reviews
durhamjm reviewed v0.9.2.1 on Jun 26, 2010
Locked me out of links - outlook to explorer, witthin explorer. Keeps coming up with the message "the operaion has been canceled due to restricions in effect on this computer" Checked and re-checked all settings in Win7, Outlook and explorer - this is BADDD
thartist reviewed v0.9.2.0 on Oct 2, 2009
Contains USEFUL and non obvious tweaks only, unlike other programs with tons of crap.
Kudos to the author for making a meaningful tool.
pjb reviewed v0.9.2.0 on Oct 2, 2009
Gets better and better with each release.
Really great application.

Change Log:
0.9.2.0
October 1st, 2009

- Program now tries to detect system locale.
- Added option to Disable/Enable the Libraries folder under
Windows 7. This is on the Win 7 Interface II page.
- Added third Windows 7 Interface page with two new features:
- New Regional Theme feature. This will enable regional themes
for English versions of Windows 7. I've only tested this on
the EN-US version of Windows 7.
- New Regional Wallpaper feature. This and the above feature
will add new items to the "Personalize" window.
- Hid the old AutoRun disable function and added a newer and
supposedly improved method for preventing programs (such as
malware) from auto-running from external media such as USB drives
or CD/DVD-ROMs. This is for XP/Vista/Windows 7.
- Added link to 3rd party program to let you customize the Windows 7
logon screen background. This on the UAC page under Windows 7.
mfarmilo reviewed v0.9.1.8 on Aug 10, 2009
Shows some promise, but a long way to go - so far it contains only a VERY limited number of tweeks. As for the comments about it needing .NET, that's no different from a Java app requiring a Java runtime to be installed. I'm not aware that installing .NET is going to put XP users out at all - other than it taking such a long time to install of course.

Aegis69 seems to have completely misread what this program does. The SafeXP program they recommend is for tweeking security settings - which as far as I can tell this program doesn't touch.
ron_marz reviewed v0.9.1.4 on Apr 29, 2009
Requires .Net Framework.
Flame Thrower reviewed v0.9.1.0 on Jan 9, 2009
Aegis69,
Are you a dummy? This is a great app and just what I'm looking for.
Running Windows 7 x64 and the major glaring omission is the option to delete the send to, and replace it with move/copy.
That function alone is worth the price, if a meagre donation to the author!
Damn 'tards!
Dreimanis reviewed v0.9.1.0 on Jan 9, 2009
It has all the options that i need for tweaking my machine. others probably have more, but i do not need them. Small and stable.
Aegis69 reviewed v0.9.1.0 on Jan 8, 2009
Everything will require .net in the future?

HAHAHAHAHA!

Yeah I'd love to see a real software company force you to install that garbage before installing their app. And if you have a Mac or use Linux I'm sure you'd just going to find a .net port that will run on your machine.

Puhleese, 10 year olds leaving comments on software, thats just rich.

I don't have .net installed at all on my XP machine, and if I come across a crap program that needs it, I look for an alternative. And, for an alternative to this garbage, get SafeXP http://www.theorica.net/safexp.htm
bufftbone reviewed v0.9.0.3 on May 27, 2008
fo shizzle no nizzle my hizzle. know what i mean dogg?
-Lord- reviewed v0.8.8.9 on Feb 21, 2008
as for .net... Resistance is futile. So get over it. Nice app, but lots of tweaks are missing. This program should only get better. I am anxious for the next build.