File Details

File Size
1.2 MB
License
Freeware
Operating System
Windows (All)
Date Added
March 18, 2013
Total Downloads
13,978
Publisher
More Than A Cleaner.de
Homepage
Xleaner
Publisher's Description
Xleaner is a free privacy and clean-up utility that allows you to get rid of junk files with ease. With Xleaner you can eliminate all these tracks that result from browsing the web on your computer, such as internet history, cookies, cache, autocomplete memory etc. of your browser, and window's temp folders, run history, search history, open/save history, recent documents and more.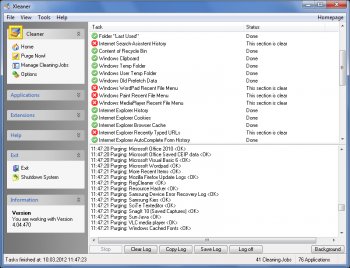 View Full-size
Latest Reviews
tylergierke reviewed v4.28.1368 on Aug 23, 2013
xleaner is great
Music4Ever reviewed v4.25.1306 on Dec 7, 2012
Xleaner is now the best cleaner out there, beats CCleaners but also works well alongside it. Miniscule size & contains no hidden add-on's.
JRice reviewed v4.24.1260 on Nov 29, 2012
I have also to admit that it is updated often. despite this the best cleanup utility with ccleaner
Music4Ever reviewed v4.24.1260 on Nov 29, 2012
Far, far to many updates, why not release a new version fortnightly instead of every few days, it's a good program but who wants to be updating it twice a week or more. Also upsets my anti-virus program with so many changes - Just my opinion...
Music4Ever reviewed v4.24.1254 on Nov 26, 2012
I wonder why more don't use this spyware free gem.
JRice reviewed v4.23.1230 on Nov 22, 2012
Portable version also available on BT fileforum

http://fileforum.betanew...r-Portable/1349378465/1
Music4Ever reviewed v4.23.1213 on Nov 19, 2012
Brilliant & ad / Spyware free.
JRice reviewed v4.17.1027 on Oct 15, 2012
gets better and better
25_manken_25 reviewed v4.16.1000 on Oct 8, 2012
this and ccleaner ...the only two Cleaner utilities i trust

menu Tools -> TuneUp Xleaner > Interconnect Custom Cleaner ....add here also the path to CCleaner so both are combined
JRice reviewed v4.15.965 on Oct 4, 2012
Xleaner is great tool. Never had problems and Always Does what I wanted it to do.