File Details

File Size
0.6 MB
License
Freeware
Operating System
Windows 2000/9x/Server 2003/XP
Date Added
August 24, 2006
Total Downloads
13,423
Publisher
Luu Tran
Homepage
Xnews
Publisher's Description
Xnews is a news reader that is 100% GNKSA 2.0 (Good Net Keeping Seal of Approval) compliant. It comes with many useful features, including Plonk file, quick and advanced filtering options, support for multiple servers, remappable keyboard and more. Subscribed newsgroups can be organized in folders for easy navigation. It also offers header caching, permanent archival of messages and support for binary attachments.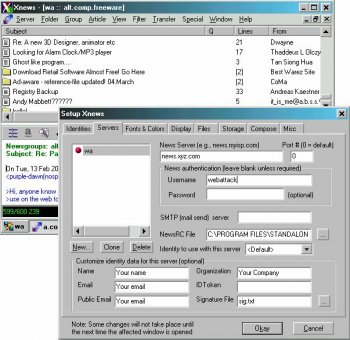 View Full-size
Latest Reviews
mharvey reviewed v2006.08.24 Test on Feb 5, 2007
Still my favorite news reader. I like it because it is simple to use light weight when it comes to installation.
IMKey reviewed v2006.06.28 Test on Sep 29, 2006
the best interface...
very good news reader!
zridling reviewed v2006.06.28 Test on Jul 10, 2006
NewsLeecher's latest (3.7) version seems to have finally passed Xnews in overall usability and a solidified feature set, despite Xnews being one of the easiest and fastest newsreaders ever developed. Being able to turn off text comments are well worth it, for instance. Still, an excellent option.
carlosthefang reviewed v2005.10.18 Test on Jan 18, 2006
A superb reader that I have used for four years. There's dedication. I have tried many others, but only Xnews delivers so much that I want.

The GUI is to my liking, which helps. We all have different tastes and Xnews suits mine.

I have one key gripe (but Xnews is so good it still gets the 5, just). The use of archives rather than folders to store downloaded segments - it's risky. I have yet to fully evaluate v6.02.16b and will specifically test handling of >2Gig archives. v5.04.25 looses segments if the 2Gig boundary is exceeded in win98se, win2k and winXP. If this has been fixed, Xnews becomes still more formidable - and I will post accordingly. Currently, I get round the problem by running multiple queues and archives.

Two suggestions: 1. Consider alternative segment storage. 2. How about scheduling of downloads - the icing on the cake?
zridling reviewed v2005.10.18 Test on Oct 19, 2005
roj, please don't tell me you're against customizable keyboard shortcuts! I think the key is that once you get accustomed to using any newsreader, you tend to stick with it. Luu Tran is back to developing Xnews and it's fun to see. I'd be interested in knowing what others' favorite newsreaders are. I think my second choice would be a tossup between NewsBin Pro and NewsLeecher.
czekar reviewed v2005.10.18 Test on Oct 19, 2005
Not bad, but not any better or worse than GrabIT. When will someone make a Newsreader that supports a proxy?
httpd.confused reviewed v2005.10.03 Test Beta on Oct 18, 2005
I'm not trolling, Zaine, really... I've installed at least two different versions of Xnews on as many occasions. I genuinely hate it!
mackley reviewed v2005.10.03 Test Beta on Oct 7, 2005
I used Xnews since I've found Dialog !
http://fileforum.betanew...ude_Dialog/1048716593/1

Maybe when the Xnews final "2005 version" come out, I'll give a new try.
zridling reviewed v2005.10.03 Test Beta on Oct 7, 2005
IF YOU READ THE MANUAL, you'll find the Xnews does more than any other major newsreader. Lots to love here, and the UI is built around keyboard shortcut customization and workflow efficiency. And for the freeware nuts, you can't carp about its price.
damndj reviewed v2005.10.03 Test Beta on Oct 6, 2005
After a couple of years of no updates, it's nice to see this excellent newsreader being updated again. One of the best for Windows!