Other Versions
Publisher's Description
ZoneAlarm includes five interlocking security services that deliver easy-to-use, comprehensive protection. Unlike any other security utility, it incorporates a firewall, Application Control, an Internet Lock, dynamically assigned Security Levels and Zones. Combined, these elements yield the strongest security possible.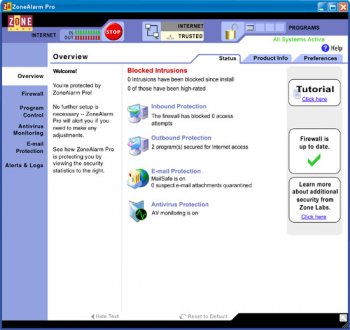 View Full-size
Latest Reviews
nilst2006 reviewed v9.3.037.000 on Sep 23, 2010
Crapware, malware and now scareware !
jorgosch reviewed v9.3.037.000 on Sep 21, 2010
Not only is their software mediocre, now they join the ranks of SCAREWARE programs that pretend you're infected to make you buy an upgraded version.
CyberDoc999 reviewed v9.0.114.000 on Sep 29, 2009
Buggy.... bloated
also would not install on my other 64 bit system
tafugate reviewed v9.0.112.000 on Sep 24, 2009
the trouble folks have with zonealarm, or any other software product, is they don't understand the way some products conflict. if there are remnants of norton, comodo, outpost, whatever, they're going to have problems with any software firewall. i've used trials of nearly every software firewall, and zonealarm always keeps ending up back on my machines.
LakotaElf reviewed v9.0.112.000 on Sep 23, 2009
I use zone alarm with the antivirus as well and I have never had a problem, it has never slowed down my computer, bootup or not. So I have no idea why others have such problems. I like it and think it is one of the best. It does a good job in my estimation without any problems at all. Well none so far and I have used it for years.
celibate1 reviewed v8.0.298.000 on Apr 14, 2009
borisf98 is right, JUNK! Slows down bootup and shutdown, cannot disable autoupdate, even blocks some system tray icons from loading when it's screwing up the bootup.
borisf98 reviewed v8.0.298.000 on Feb 24, 2009
This software is a junk. Guaranteed to to screw up your internet connection and some of the programs
outofspace reviewed v8.0.059.000 Final on Oct 24, 2008
it dont install on my xp, some dll was missing. Its no worth to download
borisf98 reviewed v8.0.059.000 Final on Oct 19, 2008
Horrible. After I uninstalled it, it totally screwed up my Internet connection.
toasale reviewed v8.0.059.000 Final on Oct 17, 2008
Outpost is THE best and I feel ZA isn't too far behind - that's why the 4.