File Details

File Size
31.3 MB
License
Shareware, $19.99
Operating System
Windows (All)
Date Added
May 24, 2016
Total Downloads
154,687
Publisher
Inmatrix LTD
Homepage
Zoom Player
Other Versions
Publisher's Description
Zoom Player is a robust media and DVD front-end player. It was designed to be simple at first glance while being remarkably dynamic and flexible when used to its full potential. It works in two modes: a Media mode which can play any file supported by DirectShow (any file which plays in MediaPlayer) and a DVD mode which uses pre-installed DirectShow DVD filters to play DVD content. It supersedes media player in all it's functions and provides several important functions that media player lacks. It provides special zooming functions to improve TV-output quality by eliminating overscan.
Fully Functional (uncrippled) trial version.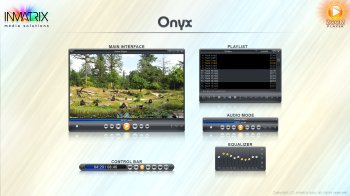 View Full-size
Latest Reviews
Betanoob reviewed v8.1.1 on Mar 20, 2012
Get this sh1t out of here! SCAM
stisev reviewed v8.00 RC3 on Sep 5, 2011
Zoomplayer is the GOD of all PC video players. It creates the gold-standard for all other video players to be benchmarked to.

Make no mistake, this is the best HTPC video player on the market, hands down. It is stable, configurable in every way imaginable and controllable from a remote using Eventghost or girder.

Ignore these nincompoops below. They are purposely decreasing the rating for some reason

Best video player ever. Nothing even comes close and I've tried all of them (including MPC-HC + VLC + GOM + KMplayer)
GaCrownVic reviewed v7.00 on Nov 18, 2009
Installs too many additonal programs for me. When I uninstalled it, I had to manually uninstall at least 8 other programs it had installed. Not for me.
Young Strider reviewed v7.00 RC2 on Nov 10, 2009
It's just the same s*** it the previous one, only released to get their hands in your pockets once again.

As said below, there are free alternatives which can do 100x more and 100x better.
us3r reviewed v7.00 RC1 on Jul 7, 2009
Useless. There are far more better players than this one and they're freeware.
FixXxeR reviewed v7.00 RC1 on Jul 7, 2009
Used to be a supporter but now that they released the premium edition, they are charging users for features which USED TO BE part of the pro version I purchased. What a ripoff.
photonboy reviewed v6.00 RC1 on Jan 29, 2008
Awesome. Worth the money for some.

Basically, I pretty much use FFDSHOW audio and video decoders for most video. I installed my external decoders via the latest CCCP.

I still have KMPlayer, WMP11, WMP Classic etc. but Zoom Player was the only one that allowed me to get every last thing just the way I want it. One notable thing is dual audio and subtitles. I typed "english" in Settings to allow English audio even if another language like Japanese is first. On my Control bar I can quickly toggle the Subtitles and audio if need be. Anamorphic Matroska is another thing not all players have. There's too much to mention.

I've never had a single stability issue in two years with any version and I've tried all of them.

Honestly, very few people need to purchase this, but I bought it a couple years ago and just love it. I'm happy to see that changing version numbers didn't require me to upgrade like some programs I bought in the past.

Perfect for my needs! Very configurable and stable.
stisev reviewed v6.00 Beta 2 on Dec 10, 2007
THE BEST. Hands down.
analphatester reviewed v6.00 Beta 2 on Nov 30, 2007
it seems working fine good new features
not bad
OAKsider reviewed v5.00 Technology Preview 7 on Aug 26, 2006
Absolutely amazing media and DVD player. Taking advantage of the unending amount of tweaks and options available, and combined with filters such as FFDshow the video quality in better than 99% of aa media players available. The only downside is the high pricepoint, because we all know about 25+ free media players that will do the job, just not as well.