File Details

File Size
17.8 MB
License
Freeware
Operating System
Windows Server 2003/Vista/XP
Date Added
July 12, 2012
Total Downloads
7,145
Publisher
dotSyntax, LLC
Homepage
digsby
Publisher's Description
digsby is a multiprotocol IM client, email notification tool, and social networking tool. The IM client lets you chat with all your friends on AIM, MSN, Yahoo, ICQ, Google Talk, and Jabber with one simple to manage buddy list. The email notification tool alerts you of new email and lets you perform actions such as 'Delete' or 'Report Spam' with just one click. The social networking tool alerts you of events like new messages and gives you a live Newsfeed of what your friends are up to.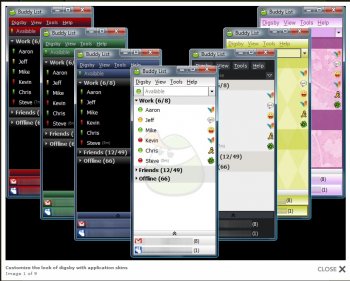 View Full-size
Latest Reviews
vortal reviewed vBuild 91 Beta on Jun 23, 2011
@CyberDoc999 - I could not agree more, this is an awesome feature but I have found that it was not detailing message from Hotmail but marking them as read and not showing them again, this fixed yet?

Generally like it but resources were (not now) an issue for me so I should check it out again.

4 stars for now based on prior usage, will try and remember to update again once I try out the latest version
infectiphibian reviewed vBuild 86 Beta on Dec 14, 2010
It's not freeware but adware!!
jorgosch reviewed vBuild 82 Beta on Sep 2, 2010
Pointless to publish updates for digsby here, since it autoupdates on startup. That said, it's a great messenger app!
kbsoftware reviewed vBuild 81 Beta on Aug 9, 2010
I understand it's easy to uncheck to not install all that crapware they try to include in the install etc. But we are only humans and sometimes make mistakes, no need for those mistakes to be costly.

And anyways, that's just an unacceptable policy or way to do business as far as I'm concerned. Just my opinion but when it comes to installing software on my computer, my opinion is the only one that counts, especially when there are great alternatives without the potential dangers or pitfalls.

Just my two cents before taxes..
CyberDoc999 reviewed vBuild 80 Beta on Jul 31, 2010
You can decline all of the adware and do a install without it .... it is so easy
a ten year old could do it

that e-mail thing that digsby does to show your emails and alow you to check and delete e-mail is the coolest thing ever I give it 10 stars
netean reviewed vBuild 79 Beta on Jun 15, 2010
I find it hard to rate Digsby, because when I used to use it, I really liked it.. It did have quite a high memory footprint, but some good features that I used often.
However, when they started bundling their crapware with the installer, I lost faith and that's the biggest problem. Digbsy has lost my trust, so I uninstalled it and have no plans to try again anytime soon. Particularly as they're still including junk with the installer.
When you lose trust in a company/program, I think it's hard to get it back. I moved on and use Trillian Astra now.
gwz40 reviewed vBuild 76 Beta on Mar 9, 2010
Digsby used to be one of the better clients out there. Now I consider it nothing more than malware and scam.
aruprc reviewed vBuild 76 Beta on Feb 18, 2010
If you are into social networking and have multiple accounts as well as use Facebook chat, this is the one for you.
DKDude reviewed vBuild 76 Beta on Feb 12, 2010
Great app, keep up the good work.

A fool wrote.
"Malware is never trivial." no but he is.
Somnambulator reviewed vBuild 75 Beta on Dec 15, 2009
there's no spyware or malware, it's got adware crap in the installer that you can disable. it also runs sort of a folding@home app by default that you can disable, though it's sort of buried in the options menus.

i still have my original installer for a year ago that didnt include any ad-ware, but it's not really a big deal since you can disable the toolbar installs.

digsby is a great great multi-protocol IM program. it has an auto-updater, support for every major and many minor protocols, great AIM-like interface, transparency, notifications that allow you to respond right in the popup box, and tabbed IMs.

i used pidgin for a few years before discovering this and i could never go back