Publisher's Description
floAt's Mobile Agent is a powerful phone editing tool that allows you to easily manage all personal data stored on your phone, via a number of different connections methods. It allows easy management of Phonebook (both SIM and Phone memory), SMS, Profiles, and Files stored on the phone. It can also allow you to pickup and dial calls directly from your PC.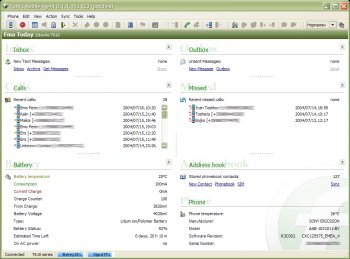 View Full-size
Latest Reviews
stisev reviewed v2.1 Beta 4 on Apr 9, 2007
This is the MOST AMAZING program for my Sony Ericsson W810i. I used to use MyPhoneExplorer, but that's gone promptly out the window.

The ONLY drawback to the program is that it saves settings in the registry and thus it's not portable. It lost one star for that.

PLEASE MAKE THE PROGRAM PORTABLE!! (give us the option to save in .ini!)

UPDATE: 4/14/08
I want to lower my rating to 2/5 and respond to the author's description of "Portable mode"

"Start in Portable mode will store data under FMA dir"

Yes, it saves the profile information into the application folder (which is progress), BUT the program when run via a shortcut wit /portable switch will ERASE YOUR SETTINGS after you exit the program. It is nice enough to ask.

Now, this to me is NOT portable.

Please, author of FMA, give the user the option of putting ALL settings into an .INI or .CONFIG file of some kind INSIDE of the FMA folder.

Please! This is the only major problem left for FMA!
tatool reviewed v2.1 Beta 4 on Feb 5, 2007
I was just lookin' for something to work with my SE W810i - and that's it! It's perfect :)
Pembo reviewed v2.1 Beta 2 on Mar 15, 2005
Truly Stonking!!!
Been using it for about 18 months now. First on a T610, then a K700i. Nice to see it's fully K700i compatible now. Used it linked up via IrDA, RS232, USB to RS232 cable, & Bluetooth on laptops & desktops. This little momma really rocks! It completely blows away XNDConnect which comes with the Sony Ericsson range of mobiles. Only wish is that it'd sync the calendar events both-ways, instead of just phone to Outlook. Still, can't deny an awesome piece of software FIVE stars!!!
netean reviewed v2.1 Beta 2 on Mar 15, 2005
I've been using this for a while too and really like it, it's got a lot of power and is very usable.

Be aware though, that this is primarily designed for SonyEricsson phone ONLY. (As stated on the website)
MoeRL reviewed v2.1 Beta 2 on Mar 14, 2005
I've been using this for a long time.. and this latest version is the best yet. It comes with a new preferences dialog design which makes much more sense.. a phone connection wizard and more stuff. It even works with my Siemens phone!

I used it with my Sony&Ericsson T630 and I'm now using it with my Siemens S66 ;)

Actually, I just managed to connect.. not sure if everything is working fine with it :)
zorty reviewed v0.1.2.10 Beta 1 on Sep 27, 2004
seconded!

actually that application revived my notebook =)
works fine with irda :)
MLSoNiC reviewed v0.1.2.10 Beta 1 on Sep 27, 2004
I'm using this tool for a while and it's great! I've never seen such a good App (even commercial Apps) for connecting to mobile devices.
Namero reviewed v0.1.2.10 Beta 1 on Sep 27, 2004
best Software for Sony handys , it works with all USB cables !

read the FAQ :) or try the search button or google ;D

at the moment a little bit buggy but the software is for free , so i have no problem with that !
bc_0100 reviewed v0.1.1.5 Beta on Apr 11, 2004
I would really love to use this app... But the software is not able to find my Samsung N400 via USB cable. I am hoping that future releases will descripe which phones its supports as well as providing a bit more documentation. Deffinately worth a shot.
utomo reviewed v0.1.1.2 Alpha on Mar 13, 2004
The website of the project at source forge is http://sourceforge.net/projects/fma/
It have 20 developer. so we hope this projects will create good software.
But the website itself is not informative enough:
It is not mentions clearly what is the features fma have.
Which Mobile phone is supported. It look like they support Sony Ericson only for the moments. I hope in future they wil support Nokia Too.
and other things.

so I rate this as 2.5-3