File Details

File Size
3.9 MB
License
Freeware
Operating System
Windows 2000/Server 2003/XP
Date Added
July 9, 2015
Total Downloads
6,165
Publisher
hMailServer.com
Homepage
hMailServer
Publisher's Description
hMailServer is a free, open source mail server for Windows. It has support for SMTP, POP3, IMAP, virtual domains, anti virus scanning, distribution lists and much more. It comes with a great COM library that easily can be used for integration. Data is stored in a database server, MySQL or MS SQL, depending on your choice.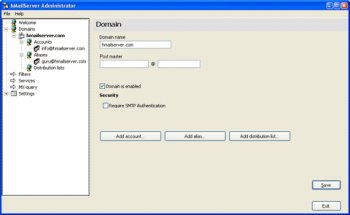 View Full-size
Latest Reviews
Aegis69 reviewed v5.5.1 Build 2107 Beta on Oct 9, 2014
My point poundsmack is that they suck you in with, "ITS FREE' and then they get bought by a new parent company and new suddenly version 7 come out and its not free anymore, its 99 bucks per user. So I will not invest time and effort to migrate me entire list of user and all the spam filters to any system that not complete open source so that I know it'll never go payware.

Incidentally this product looks like it has gone open source now so I will change my vote.
uberfly reviewed v5.2 Build 354 Beta on Dec 30, 2013
Wow, amazingly full featured for a free mail server. A good alternative to what I'm using.
poundsmack reviewed v5.0 Build 321 Beta on Jan 5, 2009
@Aegis69

ok the "it's not open source, I won't touch it" movement needs to fade away. rating it a 1 for you not liking it's licence is also a little rediculous. so here is a rating based on the product.

Version 5 is going to be great. the beta is fast and the new features are a welcome upgrade. I am really looking forward to a stable 5.0 release. easily the rival (if not better) than phlymail ( http://phlymail.com/en/phlymail/lite/ ) and Mdaemon ( http://www.altn.com/Prod...ree-Windows-Mail-Server/ )
Aegis69 reviewed v5.0 Build 321 Beta on Jan 5, 2009
Now that its closed source, I will not touch it. Too easy for them to say, "New version 6, now Shareware. Get yours for only 69.95 per user!!"
catdsnny reviewed v4.4.2 Build 277 Beta on Nov 29, 2008
Quick download and install, great feature set, works first time out of the box...highly recommend.
BigBearDave reviewed v4.4.2 Build 277 Beta on May 8, 2008
To all the Opensource guys who work on this Mail Server... Excellent work, keeping this free will put alot of pressure on SBS2007

There are a few feautures you can add, but I need to go over all the functions before I make a comment on what.

Great Server Addition, great work, you guys deserve praise. Sorry I dont have any Awards to hand out... but you should get something...!!
Artem S. Tashkinov reviewed v4.4.2 Build 277 Beta on May 7, 2008
Perfect!

Just make sure you back up regularly its configuration and its MySQL database - upon MySQL crash it may behave really weirdly.
rdefalco reviewed v4.4 Build 267 (Unstable) on Mar 25, 2007
Really a great program. I was trying to set up an Exchange Mail Server and I was losing days with guides and how-tos, then I found this program and after 10 minutes my mail server was up and running.

Using it with webmails like Horde/IMP or SquirrelMail makes this the perfect program for small businesses
iced reviewed v4.3.1 Build 251 (Unstable) on Dec 13, 2006
am very happy with this.. this is the first time i everran a email server with my own domain and its cool. i was going use iis smtp but to tell you the truth i didn't udnerstand any of the properties in the iis stuff.. but this was so simple to use, it right in there as a service process so its always on wehn the comp is on.. i just instantly set up an account, sent and email to it with gmail and used outlook to read the new emaill i love it, perfect addition to running my own web site on my 10/1 cable :))) and its FREE, kudos programmer dude thanks for all your time for freeness
iamanon reviewed v4.3.1 Build 251 (Unstable) on Dec 12, 2006
This one is good, Mercury32 is still faster/better/more powerful but a lot harder to use.