File Details

File Size
54.9 MB
License
Shareware, $2.99
Operating System
Windows (All)
Date Added
March 2, 2021
Total Downloads
14,988
Publisher
Software4u
Homepage
iDevice Manager
Publisher's Description
iDevice Manager can you look into the file system of your iPhone, iPad and iPod Touch and download / upload files by USB connection, regardless of the file format. Within this function you can use your iPhone/iPad/iPod as an "external disk". The program supports direct access to photos, emails, SMS, and video directories of the iPhone. View photos, emails, SMS, videos and all other files easily. The same function is also available for videos, music (from iPod-App) and ringtones. The highlight is the creation of your own ringtones with the ringtone editor from MP3, WAV, AIFF and M4A audio file formats.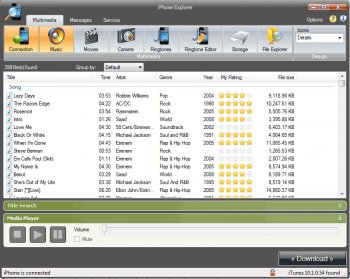 View Full-size
Latest Reviews
-Lord- reviewed v10.0.6.0 on May 14, 2020
On android, these features are already built in and you don't need to buy any third party apps to do it.
Joey4444 reviewed v8.4.0.0 on Oct 30, 2018
Fails to install on Win 10 - insists on trying to install a bunch of C++ stuff that's already in Win10 and fails with an error message. This has been true for all versions above 7. Company notified months ago, no fix in site.

Avoid
eblade reviewed v4.1.3.0 on Oct 26, 2014
This is the only program I've ever been able to find that has been able to actually save my MP3 collection that existed solely on my iPod Touch, back to my hard drive. I had copied all of my songs to my iPod, and almost immediately had a disk failure that lost the whole collection. For that, I am super grateful.

However, I now have a few dozen mp3 files that are named with 4-letter filenames that have no relation whatsoever to their original content, and the free edition of the software has a "10 per day" download music limitation it tells me now.

Had they not had that limitation, I would've used this software and given them $50 for it.. but now i'm going to somewhat angrily give them the $2 they ask. At least the MP3 file tags are still present, so I can probably get MediaMonkey or something to rename them all.
some guy reviewed v4.1.1.0 on Sep 26, 2014
this shows it's clean very good tool if you own a Iphone ,,,not me Droid,
https://www.virustotal.c...fcf/analysis/1411751693/
balanceinmotion reviewed v4.1.0.0 on Sep 24, 2014
awesome tool!
solicjanfelek reviewed v3.4.0.0 on Mar 18, 2014
I love this one!
CyberDoc999 reviewed v2.3.0.0 on Jul 23, 2013
great free software!
just choose custom install and un-check all boxes.... very simple no toolbars
hazlema reviewed v1.9.0.0 on Jan 8, 2013
I wanted very much to try this but my virus scanner (ESET Smart Security) was screaming at me, it said: IDMSetup.exe » NSIS » biclient.exe - a variant of Win32/Somoto.A potentially unwanted application. Needless to say I didn't download it, shame looks like a good app.
abraxisr reviewed v1.9.0.0 on Jan 8, 2013
just spent an hour trying to restore my browsers.
said no to ever prompt, and it still installed the toolbar on all 3 browsers.
even when I cancelled the install the toolbar went ahead and put itself on.
using uninstall didn't get rid of it either. even after running system restore my setting were changed etc etc etc.
this is so depressing, I'm not a tech guy but avoid this once useful program that now is trying to so get up my skirt.
no means no, why have the option to say no if it overrides it?
Fafner76 reviewed v1.7.0.0 on Nov 13, 2012
Still unable to install it due to an Internet connection problem fter starting it. Disabling Firewall and so on doesn't help. Can't the dev provide a full setup file instead of this retardness??