File Details

File Size
0.1 MB
License
Freeware
Operating System
Windows (All)
Date Added
August 29, 2017
Total Downloads
7,099
Publisher
Alexander Davidson
Homepage
metapad
Publisher's Description
Metapad is a small, fast and completely free text editor for Windows with similar features to Microsoft Notepad but with many extra (and rather useful) features. It was designed to completely replace Notepad since it includes all of Notepad's features and much, much more.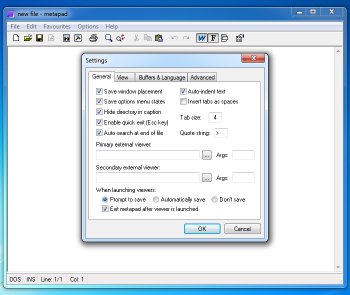 View Full-size
Latest Reviews
bobad reviewed v3.6 Beta 1 on Jan 4, 2011
Wow, it's alive, and even grew twice as big. Still a great text editor/viewer. I use it for the latter, though the non ANSI warnings are annoying. IMHO still be best light text editor viewer out there. 4.5/5!
ethsen reviewed v3.51 on Sep 14, 2009
Still the best notepad replacement. I keep trying others but I end up with metapad in the end. I'm now on Windows 7 and I wish at least the icon could be refreshed to look more modern but other than that I can't think of anything wrong with it.
McAleck reviewed v3.51 on Jun 26, 2008
I wish he hadn't stopped developing it. Still got some annoying bugs. Otherwise great app.
rickfithen reviewed v3.51 on Apr 28, 2007
The best notepad replacement, so far.
+ especially useful RIGHT CLICK, MAKE, UPPERCASE option.
InSuboRdiNaTioN reviewed v3.51 on Nov 11, 2006
Works flawlessly. Just wish it came with an installer to make replacement of Notepad a little faster.
sld reviewed v3.51 on Aug 10, 2006
Please elaborate on the bugs?

If they're pretty serious I may look into what you're using, although at this point i have nothing but praise for metapad.
kewwinn reviewed v3.51 on Jun 15, 2006
Have used it for a long time, but then the author stopped the development and now, even some fatal bugs are not being fixed.. :((

So, I have switched to TED Notepad, which is still growing in features and still fixing all bugs found. By now, TED Notepad covers most of Metapad anyway, except things like toolbar and user colors.
dhry reviewed v3.51 on Jan 21, 2006
Absolutely mandatory program. Drop this in C:\Program Files or somewhere, make a "SendTo" shortcut and a system hotkey for it and enjoy. The fastest-loading, smallest and best Notepad replacement in the world.
Aires reviewed v3.51 on Nov 30, 2005
Been using his for more than two years now and it's my default instead of Notepad.
maxx1453 reviewed v3.51 on Nov 30, 2005
using over 2 years. small, fast and reliable app.