File Details

File Size
0.1 MB
License
Freeware
Operating System
Windows 2000/9x/Server 2003/XP
Date Added
September 11, 2006
Total Downloads
5,667
Publisher
jhoneycutt
Homepage
miniaim
Publisher's Description
miniaim is a tiny AOL Instant Messaging client written in C++ and using The TOC 2.0 protocol. It uses only the Win32 API, which gives it its small size.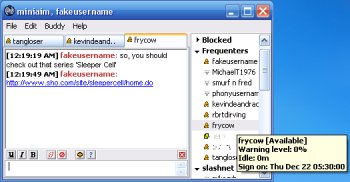 View Full-size
Latest Reviews
Nikkie reviewed v0.3.3150b on Oct 10, 2006
What a dream!!

It is so small and light.Perfect!!

I do wish there was a tabs options to close on double click,though..
xtool reviewed v0.3.3150b on Sep 12, 2006
Awesome! I love miniaim because of it's size and processes. Don't expect more to be added! It's fast and small period! If you want stuff/addons other then simple communication like miniaim then it is not for you. Pure genius! Thanks!
pipdipchip reviewed v0.3.3074b on Sep 8, 2006
This is a nice little app. It will be nice to see this app become a nice, lightweight client.
HurricaneGame reviewed v0.3 Beta 4 on Aug 24, 2006
Nice and simple.
cloud23 reviewed v0.3 Beta 4 on Jul 31, 2006
unistyle & acepuppy: if you run on a labtop, you will want tht extra 20mb...like i do and mines is less than a yr old, running on 512mb.Yes this program gives what people really need, to IM others.
unistyle reviewed v0.3 Beta 4 on Jul 31, 2006
tasty: maybe it's time you upgrade your pc if you are still worrying about 20mb of ram taken up by aim.. if you aren't running at least a gig by now, freakin upgrade.. ram is so cheap nowadays and the gains are worth it. so if you are running a gig of ram, you are complaining about an application using .02%?! now i know thats a big number to you, but i think you might be alright having the other .98% of your 1gig of ram leftover. just thank god it isn't .06%!!!
Nikkie reviewed v0.3 Beta 3 "Fixed" on May 21, 2006
Deadaim is useless ? Maybe when you use miranda or gaim . Then maybe .

Anyhow , This is a great program and does what it says . I it gets my ok .
tasty reviewed v0.3 Beta 3 "Fixed" on Feb 7, 2006
The official AIM client uses the same amount of resources regardless of the computer it is running on. Whether you notice it or not is irrelevant. An instant messenger program should not consume over 20MB of RAM in any case. Older official AIM clients with identical functionality used less memory, thus the modern versions are bloated, not to mention the silent inclusion of third party software.
AcePuppy reviewed v0.3 Beta 3 "Fixed" on Jan 24, 2006
I dont care if this program is new or not.. its lacking alot of features.. and for those who say this uses no resources.. AIM really uses no resources.. if you have a computer that is no older than 2yrs.. AIM will not use any noticable features.. this program will become useless just like Deadaim became.
cowticket reviewed v0.3 Beta 3 "Fixed" on Jan 18, 2006
This program gets a 5, it stips down AIM to the very basic, meanwhile it uses hardly any resources and has no ads. You dont like AIM or Trillian and want to chat on Aol Instant Messaging service? This is your program.