File Details

File Size
0.2 MB
License
Freeware
Operating System
Windows 2000/9x/Server 2003/XP
Date Added
February 16, 2007
Total Downloads
20,848
Publisher
mp3Trim
Homepage
mpTrim
Publisher's Description
mpTrim is a simple and easy to use MP3 editor. Its main advantage is that it works directly in the MP3 format without having to decode/re-encode, so it is very fast and doesn't degrade the music quality. It can trim the parts that you want to discard. It can adjust the volume - either manually or automatically - for example, to amplify those pesky MP3s that were encoded too low. It can fade-in/out abrupt beginning/ending. It can clean up your MP3s and recover wasted disk space.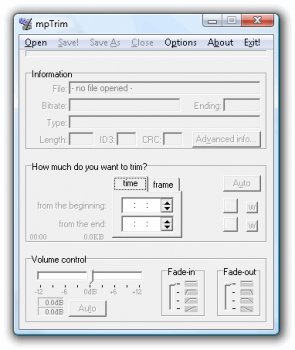 View Full-size
Latest Reviews
dhry reviewed v2.13 on Jun 23, 2008
Crock of crap. As previous reviewer says, this isn't freeware. It's limited, you can't load large MP3s into it. Like anyone's going to pay for this.
Bazzaman reviewed v2.13 on Jul 21, 2007
Great little program. No need to install - just runs from the .exe (why can't more programs be like this?). Wanted a simple tool to change volume on an MP3 and this could not have been easier. Just Open, move volume slider, Save. That's it. NO messing around. Brilliant.
gnosh reviewed v2.13 on Feb 18, 2007
Thanks to the author. This is a handy piece of software to have. Great for simple trimming chores.

Still, would like to point out its Freeware status is not 100% true: it only reads up to 7 minutes of music.
boaz reviewed v2.13 on Feb 16, 2007
Great piece of software!

Geesh I can't imagine why it won't run under Win95, after all that's only a 12 year old OS!
Carlospr reviewed v2.13 on Feb 16, 2007
The program does not work in Windows 95? Well, it looks like Windows 95 tho... Anyway, nice program!
the artist reviewed v2.13 on Feb 16, 2007
WWWWWHHHHHAAAAAATTTTTT???????!!!!!!!!!!!!!!
WIN95???!!!! ARE YOU SERIOUS???!!!!!!!
Giacomo® reviewed v2.13 Beta 2 on Feb 7, 2007
Versions after 2.00 dumped the compatibility with Windows 95. Unfortunately the author is unwilling to spend few hours to fix the issue. It's a pity, it was my favorite application.
gbjennings reviewed v2.13 Beta 2 on Feb 7, 2007
Absolutely fantastic ! It does exactly what it is supposed to do - no more, no less - and it's FREE ! THANK YOU ! ! My only suggestion is that you move the settings into an INI file so this app may be run as portable...
DudeBoyz reviewed v2.12 on Sep 11, 2006
While I do appreciate the effort and the free factor, I too agree that it would be very helpful if the author would work towards building in a "wave-type" editor where you can play the clip, find and select the chunks visually and edit them out.

I think it is easier that way and also is something that is very familiar with most people.

I would respectfully encourage the author to consider this. Thanks.
ye110mann reviewed v2.10 on Aug 3, 2006
Great program. But it's shareware!