File Details

File Size
1.4 MB
License
Freeware
Operating System
Windows 2000/9x/Server 2003/XP
Date Added
August 10, 2003
Total Downloads
12,759
Publisher
nipper, steel_space
Homepage
n.player
Publisher's Description
n.player is a versatile media player that plays DVD, audio CDs, MP3, WMA, AVI, DiVX, or any media with the preisntalled DirectShow decoder. It also supports enhanced features for playing video and audio.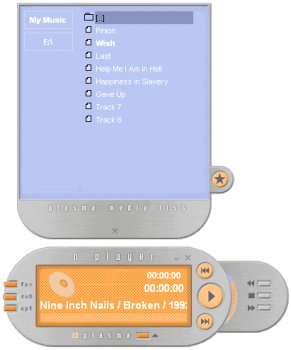 View Full-size
Latest Reviews
nikia25 reviewed v1.2.0.7 on Mar 15, 2006
Pretty good can't bet it for free when I was installing my OS didn't have a decoder and this player saved the day.
arossetti reviewed v1.2.0.0 Beta 3 on Mar 19, 2003
Very nice, but the installer and program after install only indicate beta 2.
vis666 reviewed v1.2.0.0 Beta 3 on Mar 19, 2003
hey, this ain't bad at all... but i still prefer foobar :)
lion7718 reviewed v1.2.0.0 Beta 3 on Mar 18, 2003
Still a good player, GUI alot different now.
The only thing that it could use is, make the X in the right corner visable all the time, not fade in when you mouse over...I didn't know it was there to 1st few times I had it open.
DDnDD reviewed v1.2.0.0 Beta on Mar 10, 2003
Windows 2000 Pro...

NPlayer.exe - Unable to Locate DLL
The dynamic link library WMVCore.DLL could not be found in the specified path c:\.... [all posable paths go here] .....

I have the original media player that comes with windows 2000 so im woundering do you require Windows Media Player 7+ or something.. if so you should state that..

PeAcE
DDnDD
markbirty reviewed v1.1.0.3 on Feb 25, 2003
Excellent easy to use programme.Goodbye winamp hello n.player
Kimono Ko reviewed v1.1.0.2 on Jan 24, 2003
A great player, and that's no small achievement, because I've tried many of the best ones out there. Very intuitive, love the system tray icon, and the way the window snaps to the video. I also like the shortcut keys. And playing from the last position, that's amazing!
Dirk van Hoofen reviewed v1.1.0.1 on Jan 10, 2003
First, thanks for the distribution as FREEWARE.
It works easy. I use as alternativ the "zoomplayer".
They two programs work stable.
lion7718 reviewed v1.0.01 on Nov 22, 2002
I have to say, that I really like this Player...
Simple, Easy,....
The only change that I would like to see, unless I have missed it in Options....is a way to clear the last Movie Played, it saves it by Default, so you can pick up where you left off....but thats not a big deal.
Keep up the good work.
buhaj reviewed v1.0 on Nov 13, 2002
This program saved me mega grief. Was finally able to find something that would play my Divx as well as the unecessarry obscure codecs movies seem to be recorded in when you download them (someone is spending too much time in messageboards downloading the newest beta!)
Makes watching a movie simple, just like the format it should have been recorded in.