File Details

File Size
4,321.3 MB
License
Open Source
Operating System
Linux
Date Added
July 24, 2017
Total Downloads
28,486
Publisher
Novell, Inc.
Homepage
openSUSE
Other Versions
Publisher's Description
openSUSE provides everything today's Linux user needs for home computing and computing-on-the-go. This product includes a Linux operating system plus dozens of essential integrated tools that showcase the latest that open source has to offer.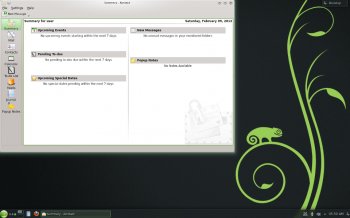 View Full-size
Latest Reviews
marty reviewed v42.2 Beta 1 on Sep 2, 2016
Been using SUSE for 20 years. This is the best version. Stable and extremely fast. A real OS not a toy like Windows 10. I dual boot
some guy reviewed v12.3 on Mar 12, 2013
very nice and laid out distro but still I prefer Zorin and MInt for my top linux pic's
wyzwyk reviewed v12.2 on Sep 7, 2012
The two month delay of openSUSE 12.2, while a little inconvenient, may have really helped this release. After installing and playing around with it a short while it seems to be a very well functioning and highly polished distribution, with no glaring problems to date. This is fantastic compared to the under-cooked 12.1 release users downloaded ten months ago. Kudos to the development team for not letting that happen again. From what I've read sometime next week users of openSUSE 12.2 will be able to add a repository so that they can download and install the new KDE 4.9.1 desktop. NICE! Along with the rolling release repository this should be one decked-out and classy looking distro. I hope no show stopper problems crop up as I look further at this release, because right now it looks like a real winner!
Yes, I concur with Music4Ever, the comments by Troll and Hugh G Rection are pretty infantile. I think it would be wishful thinking that either of those two clowns will ever grace fileForm readers with anything of substance.
Music4Ever reviewed v12.2 on Sep 6, 2012
I actually installed SUSE last night & not ran from USB & it's nice but I still prefer Ubuntu & I've tried most distros, But SUSE is excellent & if you like the interface use it. Each to their own as always.

TROLL & Small E Rection should be banned with their continual moronic & infantile comments, either probably couldn't use Linux anyway, stick to Windoze you two!
TROLL reviewed v12.2 RC2 on Aug 4, 2012
Linux = meditation for gurus
marty reviewed v12.2 RC2 on Aug 3, 2012
Ubuntu = English rripoff of Debian.

openSUSE rules
Hugh G. Rection reviewed v12.2 Milestone 1 on Feb 14, 2012
SUSE = Linux for Germans.
radelahunt reviewed v12.1 Milestone 3 on Aug 30, 2011
OpenSUSE 11.4 is very nice. It works as advertised, and does a great job. The only problem I ever ran into in my entire time using it was when choosing to encrypt only /home and swap: it does not populate /etc/crypttab so you are greeted when you first boot it in this configuration with an init 1 level "some partitions did not mount" etc message. Simply log into this, go populate /etc/crypttab, and ctrl+D and it reboots and then no longer has that issue.

It's fantastic, and I use it on all my computers. I would highly recommend it! :)
mancubs reviewed v11.4 on Apr 12, 2011
It rocks compared to w 7 u Microsoft you suck
DudeBoyz reviewed v11.4 on Mar 15, 2011
The 11.4 final seems to have fixed just about all the problems I have had with the milestones. It works great with Virtual Box 4.x and includes the latest Firefox, LibreOffice and other key apps. Improved setup, improved screen / resolution support and an improved default desktop configuration all add up to a nicely updated final version. I'm glad they seem to have pulled it together for the final release. It was a LONG road, but it looks like they pulled it off. Thankfully.