File Details

File Size
1.5 MB
License
Freeware
Operating System
Windows Server 2008/Vista
Date Added
September 12, 2008
Total Downloads
18,400
Publisher
Dino Nuhagic
Homepage
vLite
Publisher's Description
Windows Vista from Microsoft takes a lot of resources, we all know that. So here is the tool for easy removal of unwanted components and bootable ISO creation in order to make Vista run faster and to your liking. This tool doesn't use any kind of hacking, all files and registry entries are in their original form and protected as they would be if you install the full version only without the components you select for the removal.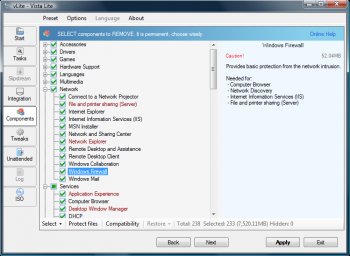 View Full-size
Latest Reviews
TheLord reviewed v1.2 on Nov 18, 2009
Version 1.2 is terrible reversal compared to prior version (1.1.6) - it's not stand-alone anymore and is completely useless wihtout 1.3 GB heavy Microsoft package. Although actual dependency is very small, no information was provided' let alone alternative download to avod all that fluff. Pretty much defeats the whole purpose of "Lite" - people who can download 1.3 GB for fun don't need reduced OS size.

One has to wonder if author got paid, one way or the other, to make this once good software essentially useless.
x-ray reviewed v1.1.6 on May 5, 2008
Old picture, get a new...

Good app like nlite keep working
horsecharles reviewed v1.1.6 RC on Apr 14, 2008
MS does not support any such apps-- to the point of trying to thwart some at times... then again, if MS put out a capable OS, there would be minimal need for utilities like vLite.

Save your subpar ratings for Vista, not for the apps trying to remedy the situation...as this is NOT the case of an app trying to better a competent product while putting one's data at risk-- it's the OS: Vista, that's putting our data at risk.
mjm01010101 reviewed v1.1.6 RC on Apr 14, 2008
heh.... so many risks you take with this type of software... And that a new one is released to fix bugs where your data is at risk. Microsoft does not support Vlite installations.

Your data folks. Worth it?
dracodos reviewed v1.1.6 Beta 2 on Apr 8, 2008
If you really want Vista and want it to run well on older hardware you should try using this program to knock out the bloat. I was able to get it to run fairly decent, albeit no Aero but not in classic mode either, on my old Pentium 3 laptop with 256MB of RAM. Pretty nice if you ask me.
ingram091 reviewed v1.1.6 Beta 2 on Apr 1, 2008
I have to give them credit it really does make Vista Run faster all around turn off all the needless crap that MS put in there by default and at times will not allow you to turn off...

I did note in the version I tested they did not have the WGA MS Update processes listed for removal. I'm sure to make it legal... But the plugin for those do work with this program if you add them manually. Thus making this a must have tool for making your own Windows Vista DVD installation disc for your fair use how you wish to use it. Works nicely for VMWare images. ;)
Mystenes reviewed v1.1.6 Beta on Mar 29, 2008
a must have application. i can't live without it!
wiak reviewed v1.1.6 Beta on Mar 28, 2008
Great tool
will rid the crap that the bloated vista DVD has and make you installation faster and smaller!
i vent from 3.22GB to 1GB on vista ultimate 64-bit SP1 DVD
not bad, just removed some software and lanauges (the asian languages are 2GB!) and added some new drivers then removed all those drivers i wont use anyway

and my DVD includes Sidebar, WMP & IE7 :p
Vimes reviewed v1.1.5 Beta on Mar 28, 2008
Standing on the shoulders of giants.....
That is how I would like to see vlite when compared with nlite.
Sadly it isn't as capable or matured as what nlite has become, and maybe it never will be due to the way that Vista works compared with XP.
That does not suggest that vlite hasn't got a place or value but just be aware that it is not as feature rich as its other sibling.
Be careful what you remove with vlite as it could cause issues when trying to update Vista with SP 1. Then again it was possible to stuff your XP doing the same thing, although there is a lot more understanding attributed to using nlite.
A good utility that I would like to believe becomes more and more capable with each release.
I would suggest to spend some time in their excellent forums to learn more from what others are doing, and have tried to do, with Vista using this tool.
If you do find it of value then you might want to contribute a little to the upkeep in its continued development
burfadel reviewed v1.1.5 Beta on Mar 28, 2008
Works great! The problem people have with drivers is a Microsoft problem not a vlite issue. Microsoft tends to think their in the box drivers are better! The issue is paricularly true when the drivers aren't whql. For ease of installation driver integration may seem the way to go, but since drivers are updated quite regularly its really of no benefit unless its critical for the insallation of Windows. The best way to do it is update with the latest drivers once Windows is installed. In terms of cutting out features you don't want (as long as you know what you're doing) and incorporating updates, its essentially perfect! The sp1 issue is a bit annoying, again a microsoft thing and not a vlite issue, however you can order a sp1 disk set I believe upon which vlited windows updates will work once again when incorporated into the build.